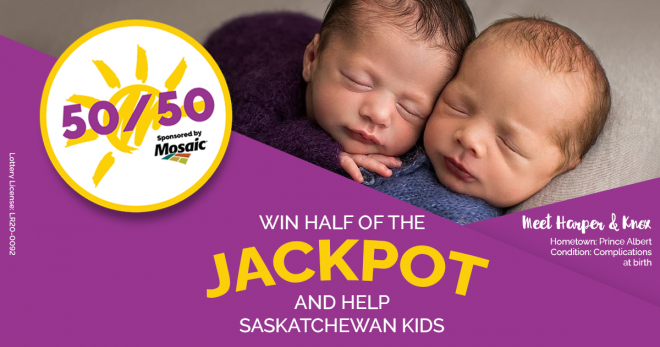 SASKATCHEWAN, May 3, 2021 — Purchase your tickets today for the Jim Pattison Children's Hospital Foundation 50/50 and help support Saskatchewan children and families.
You could win big while helping our province's kids get the best care possible. This online 50/50 has been sponsored by The Mosaic Company, with a guaranteed jackpot of $10,000.
TICKETS 1 for $20 | 5 for $50 | 20 for $100 | 100 for $250

Purchase your tickets now for a chance to win half of the jackpot and help kids like Harper.
When Harper and her twin brother, Knox, were born, Harper needed to be transported from Prince Albert to Saskatoon's Neonatal Intensive Care Unit by the Neonatal Transport Team. Harper required immediate CPR after delivery because she was not breathing, and her tiny body was placed on a cooling mat to help reduce the risk of brain damage.
The fragile moments during Harper's emergency transport are exactly what the Neonatal Transport Team prepares for to make all the difference in a baby's outcome. Thankfully, Harper was able to rise above her challenges in Saskatoon's NICU once the transport was complete and the family arrived home in Prince Albert one week later. Today the twins are happy, healthy and energetic two-year-olds.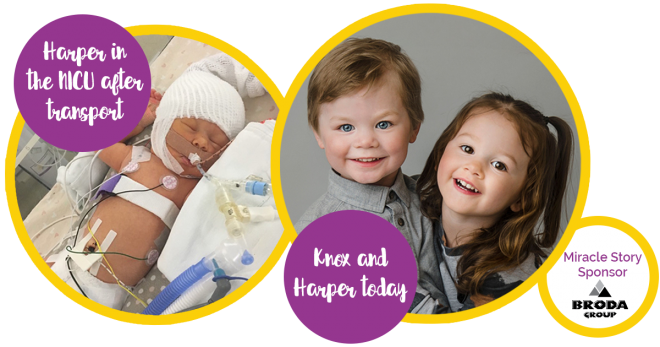 The draw will be June 16 at 4 p.m. at Jim Pattison Children's Hospital Foundation 1 – 345 Third Avenue S. Saskatoon, Sask. The winner will be notified by email or phone with instructions on claiming the prize.
See rules of play details here.
TICKETS 1 for $ 20 | 5 for $ 50 | 20 for $ 100 | 100 for $ 250
1,000,000 tickets available to a maximum jackpot of $3,625,000.00
Lottery Licence #: LR20-0092