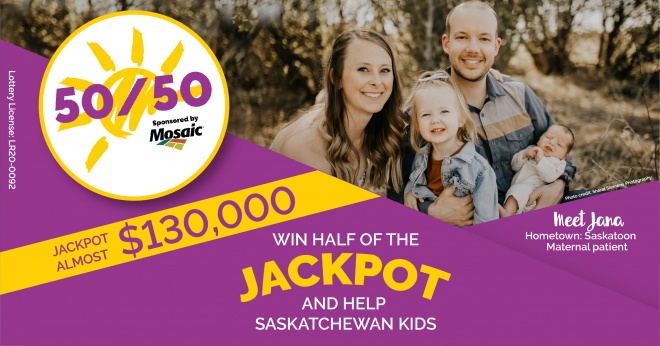 SASKATCHEWAN, May 31, 2021 — Will it be you? The one who takes home half the jackpot!
The 50/50 jackpot is climbing every day and who knows, you could be the winner!
When you purchase tickets, you will be helping our moms-to-be and kids in Saskatchewan get the best care possible! The draw is June 16!
TICKETS 1 for $20 | 5 for $50 | 20 for $100 | 100 for $250

---
Buy your tickets today to help moms like Jana!
At one point Jana's journey to first becoming a mom felt almost impossible.
For two years, Jana and her husband Cleve endured heartbreaking experiences, including a miscarriage and an ectopic pregnancy, before finally becoming pregnant with their first child. Based on her history, Jana was carefully monitored to ensure a smooth pregnancy and a healthy baby, and in April of 2018, baby Claire entered the world.
Last spring, Jana and Cleve welcomed their second child Sullivan at Jim Pattison Children's Hospital. The hospital is home to one of Canada's largest Single Room Maternal Care Centres, an innovative new model of care where moms-to-be labour, give birth and stay with their new baby in the same private room. Today, the family of four is happy and healthy, as Sullivan recently celebrated his first birthday.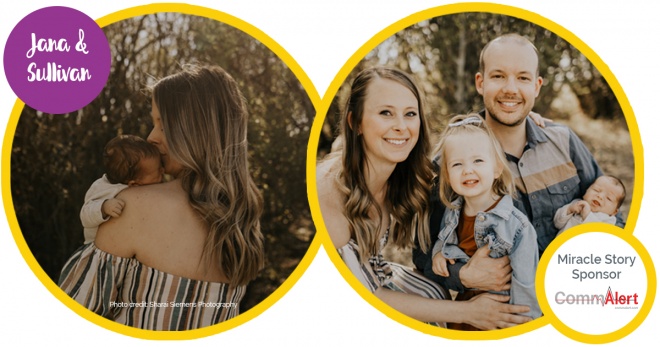 The draw will be June 16 at 4 p.m. at Jim Pattison Children's Hospital Foundation 1 – 345 Third Avenue S. Saskatoon, Sask. The winner will be notified by email or phone with instructions on claiming the prize. 1,000,000 tickets available to a maximum jackpot of $3,625,000. For phone inquiries, call 1-888-808-5437.
TICKETS 1 for $ 20 | 5 for $ 50 | 20 for $ 100 | 100 for $ 250
See rules of play details here.
Lottery Licence #: LR20-0092