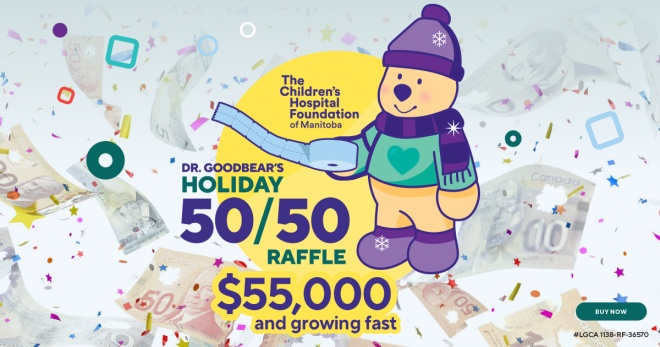 Winnipeg, Manitoba, December 30, 2021 — Dr. Goodbear's Holiday 50/50 jackpot is now over $55,000 and growing fast so don't wait, enter now! This is your LAST CHANCE to get tickets for the Grand Prize draw! Start your year off right with this life-changing prize!
Tomorrow at 10:00 am we'll pick one lucky winner to take home half of the jackpot! Act now to get your tickets before sales close tonight at 11:59 p.m.

When you play Dr. Goodbear's Holiday 50/50, not only do you get a chance to win BIG but you're helping sick and injured kids who need HSC Winnipeg Children's Hospital. Funds raised go towards life-saving equipment, ground-breaking research, and programs to make life in hospital a little brighter.
Let's make anything possible!
Lottery License # LGCA 1138-RF-36263