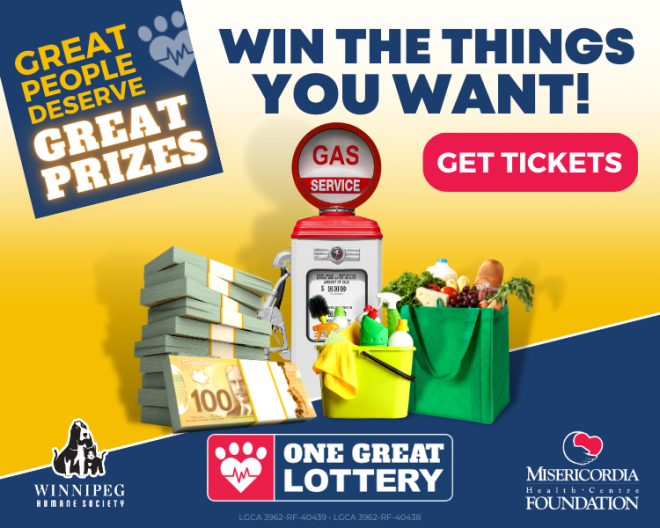 Winnipeg, Manitoba, April 13, 2023 — One Great Lottery returns with new exciting early bird prizes! Gas, Groceries and More for an entire year and entry starts with 10 tickets for $25! Fill your pantry and gas tank with gift cards from Red River Co-Op and enjoy a sparkly clean home and fresh cut grass from the Beautiful Home Co. and Green Blade Lawn Care! Every ticket unlocks all this PLUS the Grand Prize Cash Jackpot!
View these Great Early Bird Prizes!
New Early Bird Prizes:
Deadline April 27 – Groceries for a Year: $15,000 in Red River Co-Op food gift cards or $10,000 cash alternative
Deadline May 4 – Home Maintenance for a Year: $2,000 gift card for residential home cleaning services from the Beautiful Home Co. and $3,000 gift certificate for lawn care and snow removal from Green Blade Lawn or $3,000 cash alternative.
Deadline May 11 – Gas for a Year: $10,000 fuel gift card from Red River Co-Op or $8,000 cash alternative
And of course, the Grand Prize Winner will take home half of the cash jackpot which starts at $20,000 and grows with every ticket purchased!
Ticket Prices:
One Great Lottery Tickets:
10 tickets for $25
25 tickets for $50
100 tickets for $100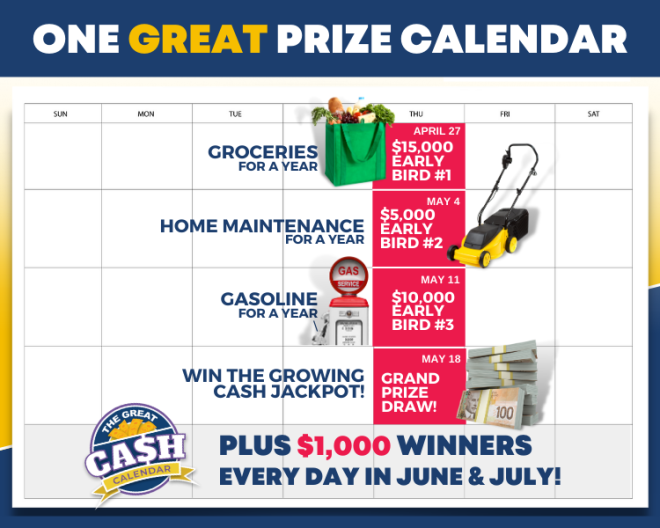 PLUS, the fan-favorite Great Cash Calendar is back, and now you can buy tickets alongside your One Great Lottery tickets or on their own! The Great Cash Calendar was a smash hit with supports, and there are 61 more prizes to win this Summer. Win $1,000 a day from June 1st to July 31st!
Hurry, there are limited tickets available for the Great Cash Calendar draw – only 197,190 tickets up for grabs!
By participating in One Great Lottery and the Great Cash Calendar, you are supporting two vital organizations: the Winnipeg Humane Society and Misericordia Health Centre Foundation. Your contribution will help continue their essential programs and upgrade their infrastructure to support hearts and paws in our community.
Don't miss out on your chance to win big while making a difference! Purchase your tickets today at www.onegreatlottery.ca and follow One Great Lottery on social media for updates and announcements.
ORDER NOW online at www.onegreatlottery.ca 
or by phone at 204-788-8458.

Support Compassionate Care in Your Community.
LGCA 3962-RF-40439 | LGCA 3962-RF-40438