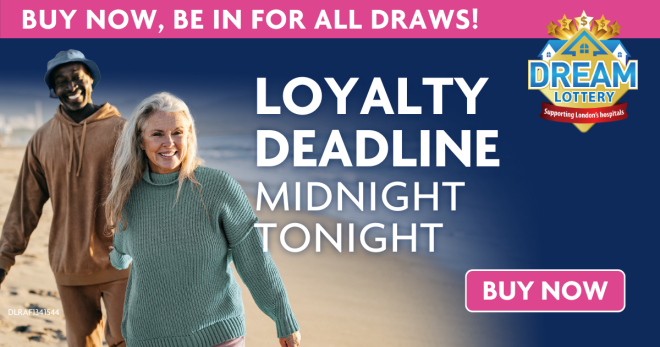 LONDON, Ontario, October 12, 2023 — Now is your LAST CHANCE to be in for ALL DRAWS because the Dream Lottery Loyalty Deadline is MIDNIGHT TONIGHT!
Ordering now will have you in for ALL DRAWS, including the Loyalty Draw: a chance to TOP UP YOUR PAYCHEQUE with $52,000 CASH!
 "Topping up your paycheque" allows the winner the flexibility of a BIG CASH infusion: spend it or save it, either way… It's like having $1,000 EXTRA a week for a year! There are also 5,500 FREE TICKETS for lucky winners to increase their chances with the remaining draws!
When you order now, you will qualify for ALL Draws, including Loyalty, VIP, Bonus, Early Bird and ALL final draws of vacations, cash and so much more – including the choice of 1 of 2 Dream Home options or $1,000,000 CASH!
HURRY! LOYALTY DEADLINE – MIDNIGHT TONIGHT!
ORDER EARLY..WIN MORE! Be in for ALL DRAWS

As always, there are even MORE ways to WIN with the 50/50 and Making a Difference Calendar! The last 50/50 jackpot was over $1.2 million with the winner taking home half the CASH, PLUS the Making a Difference Calendar features 4 months of winners in the winter months!
Every ticket purchased for the Dream Lottery supports London's hospitals, ensuring that patients continue to receive the best possible care at St. Joseph's Health Care London, London Health Sciences Centre and Children's Hospital at LHSC… a WIN for you and a WIN for healthcare!

or by phone at 1-866-802-4117.
Every Ticket Changes A Life!
DLRAF1341544 | 50/50RAF1340828 | CLRAF1340829