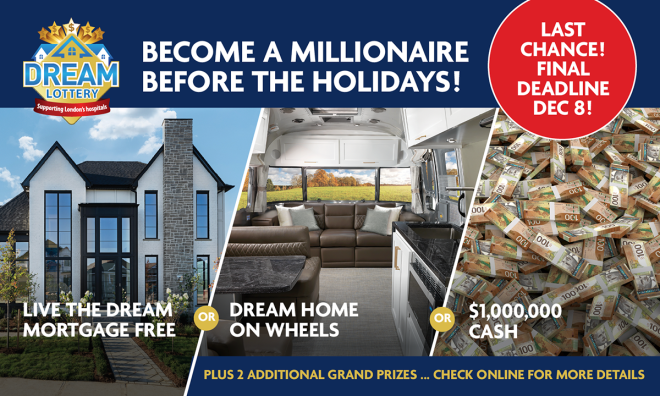 LONDON, Ontario, December 2, 2022 — The countdown to Dream Lottery's FINAL Deadline is on, making this the last weekend to get tickets! Don't miss out on your chance to become a MILLIONAIRE before the holidays!
One lucky winner will choose to live the dream mortgage free in the Woodfield Dream Home, hit the road in a Dream Home on Wheels or take a $1,000,000 PAY DAY!
Plus, 2 additional supporters will experience a life-changing WIN with Grand Prizes 2 & 3. Imagine winning a brand-new BMW X5 xDrive40i or a 29-day trip around the world!
It's almost time to wrap up the year with a bang, but you can't do it without your tickets!
ORDER NOW online at Dream Lottery 
or by phone at 1-866-802-4117.

Every Ticket Changes A Life!
DLRAF1272230 | 50/50RAF1272231| CLRAF1272232