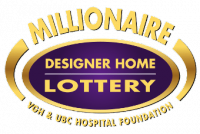 VANCOUVER, BC, November 10, 2017 — Somewhere in the tropics, the sun is shining on crystal blue waters and there isn't a scarf in sight. Wouldn't it be nice to ditch the Winter blues for a while and dive into an eternal Summer? The 2017 Millionaire Lottery wants to make that happen for their Loyalty Prize winner. Do you have your ticket yet? Time is running out to enter… the cut-off is tonight at midnight!
Order your tickets online, or call 604-602-5848 or toll-free 1-888-445-5825.
There are three awesome prize options for the Loyalty Draw winner- which suits you best? Choose a $25,000 vacation/travel gift card + $5,000 cash to craft your perfect Winter getaway. Or, revive your love of road trips with a brand new 2018 Honda HRV-LX 4WD. Or, take $25,000 cash to spend on whatever makes you happy. Winner will choose one prize option; other prize options will not be awarded.
Make sure to purchase your tickets before the deadline midnight tonight, Friday November 10, 2017.


Order your tickets online, or call 604-602-5848 or toll-free 1-888-445-5825.
The Millionaire Lottery offers seven Grand Prize options including $2.7 million cash, winners will be rich with cash and rewards… over $4.3 million in prizes to win in the main lottery alone! Best of all, all the money raised stays right here in BC!
The 50/50 jackpot was a whopping $1,645,560 last year and can climb to an astounding $2,200,000 this year! Winner takes half. The Daily Cash Plus promises 62 winners that will be drawn from February 6 to April 8, 2018 and will walk away with $3,000 cash. On April 9, 2018, one Ultimate Daily Cash winner will receive $50,000 cash.