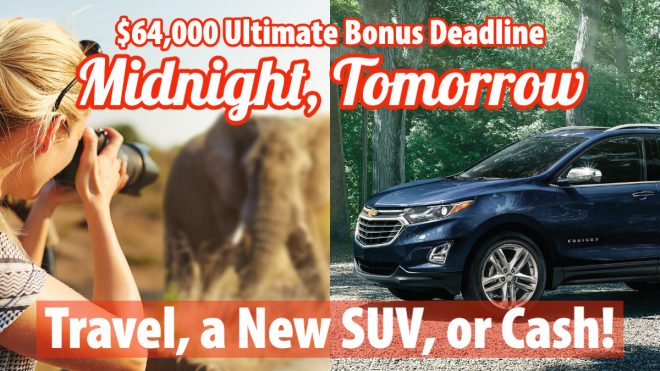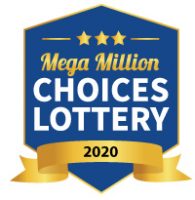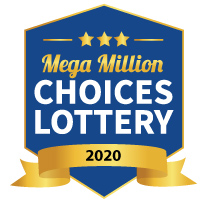 WINNIPEG, MB, Wednesday, February 12, 2020 — The Choices are yours!
Get your Mega Million Choices Lottery tickets by Midnight, Tomorrow (Thursday, February 13th) and it's a win-win: help support life-saving care by raising money for St. Boniface Hospital Foundation, and get yourself into some incredible prize draws to win the $64,000 Ultimate Bonus:
Win and choose a 2020 Chevrolet Equinox LS FWD (valued at $32,447.75)
OR a South African Southern Experience for 24 Days for Two (2) Adults (valued at $25,000) plus $5,000 cash
OR $25,000 tax-free cash
New for 2020: 2 WINNERS!
ULTIMATE BONUS DEADLINE
Midnight, Tomorrow: February 13th
$64,000 in Prizes

Plus…
If you get your 50/50 tickets, you'll reserve your space in a potentially record-breaking jackpot. It's already approaching $800,000 and it's getting bigger and bigger every minute, every day, with every purchase. And the winner takes half!
Get your Big Score PLUS tickets for $156,000 in extra prizes. Cash, Travel, and More Cash! 120 winners, and new winners every day in April. Tickets start at just 2 for $20.
(*You must purchase Main Lottery tickets to purchase 50/50 PLUS and Big Score PLUS tickets.)
Win Big: Choose your New Home – or Take the Cash
Which will you choose?
How about the Brandon home and Clear Lake cottage? Or the Vancouver Island home with everyday Pacific Ocean views? Or would you rather luck out and live in your Winnipeg dream home in Bridgwater Trails, RidgeWood West, or the Trails of West St. Paul?
Or… you can take the cash. Become an instant millionaire with $1,200,000 CASH. It's the biggest cash Grand Prize in St. Boniface hospital lottery history – and with the biggest Early Bird prize ever, there are so many reasons to buy now and win big in 2020!
---
It's easy to get your tickets for the 2020 St. Boniface Mega Million Choices Lottery. Order online at stbmegamillionchoices.ca or by phone at 204-256-7203 – or toll-free at 1-855-256-7203.
Tickets are available in-person at London Drugs, Red River Co-op Food Stores, and select Shoppers Drug Marts.
Order in-person at St. Boniface Hospital's Everett Atrium or Foundation office (during normal business hours) and at Brandon Regional Health Centre Foundation (during normal business hours).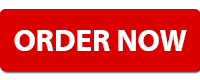 ---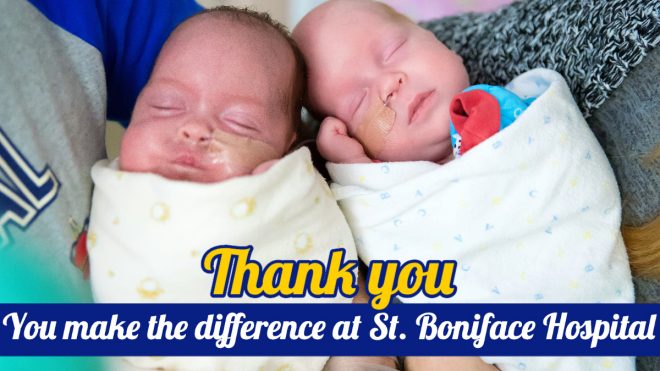 ---
Your ticket purchase helps save lives – right here in our province, and in your community. When you win, Manitoba wins.
Say 'Yes' to St. Boniface Hospital!
"Last year Manitobans answered the call in record numbers to support St. Boniface Hospital patients and medical research – one result was the biggest 50/50 pot in the province's history," says Vince Barletta, President and CEO of St. Boniface Hospital Foundation.
"We can't stress it enough," Barletta says. "The money raised is essential to ensure patients get the best-possible care. Any of us might find our self or our family in need at St. Boniface Hospital."
When you say yes to St. B, you are investing in the future of research, and helping hospital patients from labour to delivery, and in their final days in palliative care. With your purchase of a lottery ticket, you help St. Boniface Hospital Foundation purchase the latest technology and cutting-edge medical equipment for patients when they need it most.
You make the difference at St. Boniface Hospital. Thank you for saying yes.
Licence No: LGCA 1517-RF-33242, LGCA 1517-RF-33243, LGCA 1517-RF-33244