CALGARY, Alberta, August 9, 2021 — For the first time ever, Big Brothers Big Sisters of Calgary and Area is thrilled to be running the BIG 50/50 lottery during the 6th annual All-Stars For Kids Campaign.
Purchase your tickets before midnight on September 10, 2021. Buy your tickets today before they all sell out!
By purchasing a ticket, you are supporting life changing mentoring in Calgary and area, with the chance of winning half the big jackpot, which could climb as high as $150,000.
The more tickets you buy, the better your chances!
One hundred percent of proceeds raised during this campaign will support Big Brothers Big Sisters and its mentoring initiatives. At Big Brothers Big Sisters, our goal is to ensure all children and youth who need a mentor, get a mentor.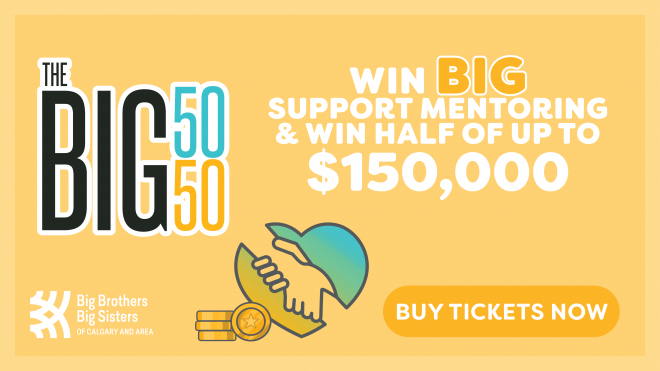 Tickets start at a single for $10. You can increase your chances of winning by choosing to purchase ten for $25, fifty for $50, or one-hundred-fifty for $100. See the current jackpot HERE.
CLICK HERE to get your tickets today and see how you're purchase will support life changing mentoring in communities in and around Calgary.

Lottery License #574854