Saskatchewan, May 11, 2023 — The popular Sask Elks Trucks and Bucks Lottery is back for 2023 and launching TODAY!  One lucky lottery supporter will win their choice of a brand-new Ram 1500 Crew Cab Tradesman DT or F150 4X4 SUPERCREW or a sweet $60,000 in CASH!  PLUS, up to $100,000 in CASH could be won on the BUCKS 50/50!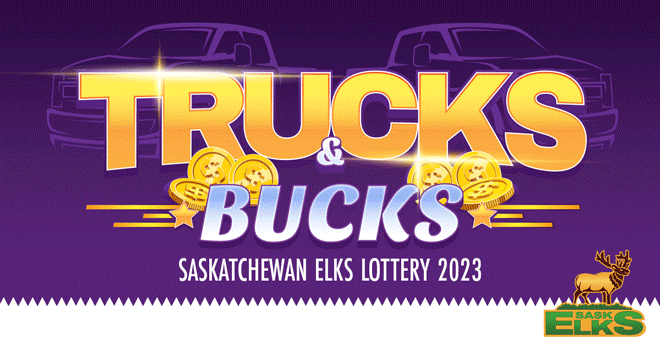 Single tickets start at just $25 each and are available in bundles for as little as $2 each when you buy 50.  Get your tickets by June 21 and you will also be entered in our $5,000 Early Bird CASH prize!
CLICK HERE to view the prizes and purchase your tickets. 
Each purchase also qualifies you to enter the Bucks 50/50 draw for an ever-increasing jackpot total!!  Single tickets for the 50/50 are $10 each and go as low as $1 each when you buy 100!  It's a great way to increase your chances of being a big winner this summer.

It's also a fun way to support a great community cause! The Saskatchewan Elks Association exist to promote Provincial projects and to unite, promote, and encourage members and Lodges in fulfilling the Elks of Canada Mission and Vision on a smaller scale.  "A Canadian volunteer organization of men and women serving communities."
To find out more or to join the Saskatoon Elks Association click here
Lottery Licence #: LR22-0143