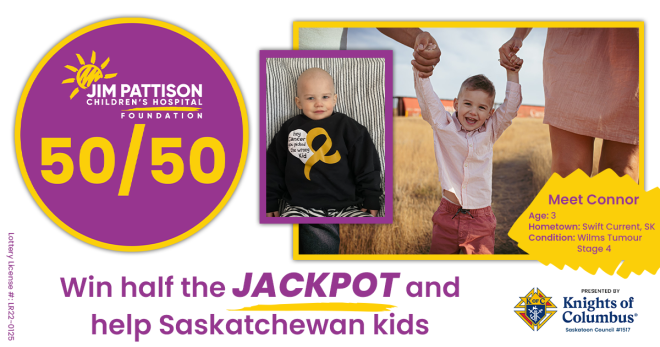 SASKATOON, SK, March 13, 2023 — Purchase your tickets NOW for the Jim Pattison Children's Hospital Foundation 50/50 and help support Saskatchewan children, moms-to-be, and families all across the province.
You could WIN BIG while helping our province's kids and families get the best care possible right here at home. This online 50/50 is presented by Knights of Columbus Saskatoon Council #1517, with a guaranteed jackpot of $10,000!
TICKETS: 1 for $20 | 5 for $50 | 20 for $100 | 100 for $250

Your 50/50 Purchase Helps Saskatchewan Kids Like Connor
Connor from Swift Current, SK and his family's lives completely changed in a matter of days in September 2021, when what looked like a bloated stomach ended up being a mass on his kidney and he was diagnosed with a stage 4 Wilms tumour. 
After two major surgeries at Saskatchewan's Jim Pattison Children's Hospital, 14 days of radiation treatment and 25 weeks of chemotherapy, Connor has officially been in remission for over a year. If there wasn't a dedicated children's hospital in Saskatchewan, Connor's family was told they would've had
to go out of province for his life-saving treatment.
"We would have been that much further away from our daughter, so it means everything to our family that we were able to be as close to home as we were," Connor's Mom, Briana said. Learn more about Connor's story.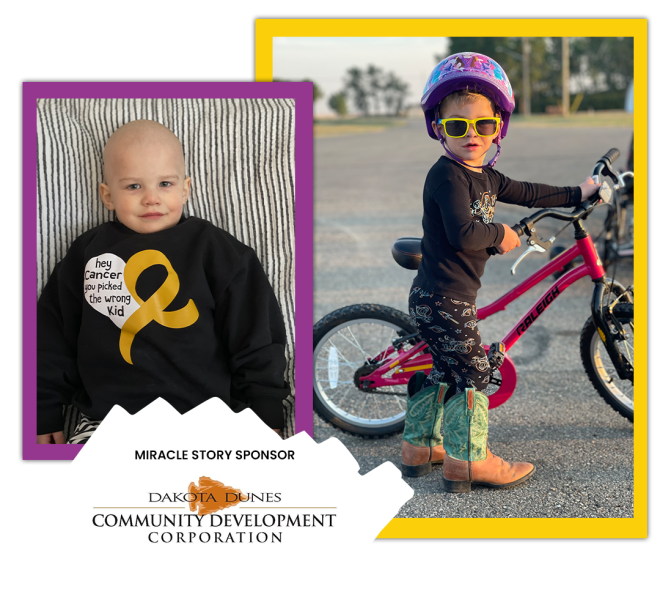 The deadline to buy tickets is April 21, 2023 at 3:00 p.m. The draw will be held on April 21, 2023 at 4:00 p.m. at Jim Pattison Children's Hospital Foundation 1 – 345 Third Avenue S, Saskatoon, SK. The winner will be notified by email or phone with instructions on claiming the prize.
See full rules of play details here.
TICKETS: 1 for $20 | 5 for $50 | 20 for $100 | 100 for $250
400,000 tickets available to a maximum jackpot of $1,000,000.
Lottery License #: LR22-0125