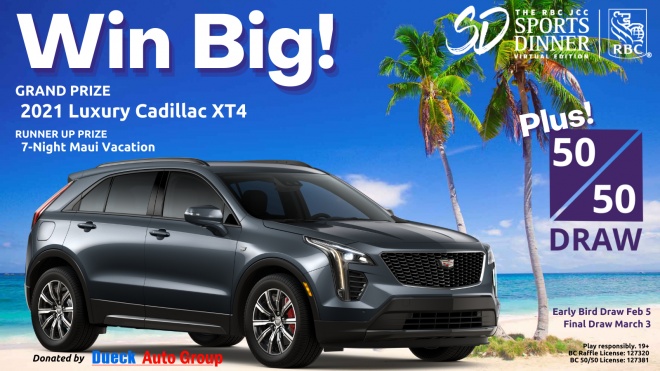 VANCOUVER, BC, February 22, 2021 — Tickets are going fast! Get in on the action now for a chance to win this exceptional 2021 Luxury Cadillac XT4.
Be the envy of your neighbourhood when you cruise by in a stylish new Cadillac, courtesy of Dueck GM. Valued at over $44,000, this extraordinary 2021 Cadillac XT4 features luxury performance, leather interior and feels tailored just for you.
The car of your dreams is a CLICK away.
But that's not all! There are so many more spectacular prizes in the RBC JCC Sports Dinner Cadillac Raffle and 50/50 Draw!
The Grand Prize winner will score the Cadillac, but the Runner Up Prize Winner spends 7 sensational nights in a tropical paradise!
YOU could be relaxing in sunny Maui, just steps from the beach in your 3-bedroom condo at Kaanapali Shores Resort. Redeemable through December 2022!
Don't delay, the 50/50 Draw Jackpot is nearly $30,000. Winner takes home half the pot! It could be YOU. Get your tickets and watch the jackpot grow.
Celebrating professional and local athletes, funds raised at the RBC JCC Sports Dinner provide scholarships and subsidies for children, family, and senior services at the JCC.
The Covid crisis has amplified the need for programs that feed our bodies and minds, and bring us together. Your support helps the JCC deliver meals to seniors in isolation; gives scholarships to kids for music lessons, sports leagues and summer camp; and provides subsidised childcare for essential workers.
With your help, JCC can continue to give kids a brighter day, keep seniors connected, let families bond, and spread joy to those in need during these challenging times.
When we stick together, great things happen. Thank you for purchasing a ticket today!
Final draw is March 3, with winners announced Live during the RBC JCC Sports Dinner gala broadcast. (Attendance not necessary to win.)
Buy your tickets today!
Cadillac Raffle tickets start at $50 or 3 for $100
50/50 Draw tickets start at 3 for $10.