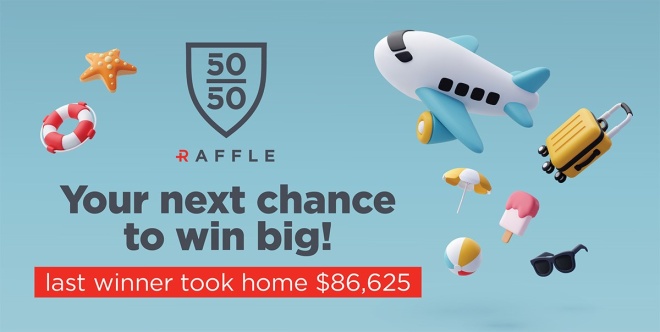 New Westminster, BC, September 15, 2023 R12; The RCHF 50/50 jackpot is growing!
Their total jackpot is over $70,000 and counting! Don't miss out on the September edition of Royal Columbian Hospital Foundation's 50/50 lottery. 
---
Why participate in the RCH Foundation lottery?
A huge jackpot: The last winner took home $86,625. Imagine what you could do with that kind of life-changing money! You or your child's full tuition? A brand new car? That vacation you've always wanted to take?
Community spirit: Royal Columbian Hospital Foundation's 50/50 Lottery brings people together, fostering a sense of community and shared purpose. Throughout nine remarkable lotteries, they've proudly awarded over $618,000 in prize money.
Support an amazing cause: And don't forget, each ticket isn't just a raffle entry. With every ticket purchase, you are not only increasing your chances of winning but also directly supporting a cause close to our hearts. The other half of the jackpot goes toward helping Royal Columbian Hospital provide exceptional critical care to some of the most vulnerable individuals in the province. 
So in the end, everyone is a winner!
Buy Your Tickets
Act fast, tickets are on sale now! Just select the number of tickets you'd like to purchase. Ticket packages available are:
10 for $10
75 for $25
350 for $50
700 for $80 (Best value: limited quantity available!)
The more tickets you buy, the greater your chances of winning! Don't wait, you only have until Wednesday, September 27, 2023 at 11:59:59 pm to purchase your tickets.


Your Impact
Your support changes the lives of patients like Dave:
Dave Castle was feeling wobbly on his feet before everything around the 73-year-old suddenly went blurry. He slipped in and out of consciousness as the ambulance rushed him to Royal Columbian Hospital and its 24/7 acute stroke team.
"I really had no prior feeling or any indicator," says Dave.
At Royal Columbian, a CT scan helped confirm a stroke. Dave was taken to one of the hospital's angio suites to undergo an emergency thrombectomy, where the medical team would slide a thin catheter from leg artery right up into the head to grab or suction the clot out.
Adding to the challenge, one of Dave's blood vessels had narrowed, meaning interventional radiologist Robert van Wiltenburg had to open it up with a balloon angioplasty.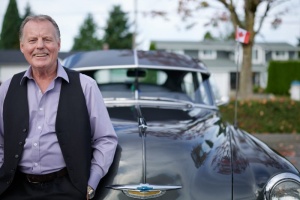 "The narrowing is contributing to the stroke, so we have to open up the vessel at the bottom in the neck," explains Dr. van Wiltenburg. 
Dave spent several days recovering in hospital before returning home. A few weeks later, he returned for the next phase in his treatment involving putting a metal stent in the part of the blood vessel that had narrowed.
Royal Columbian is one of only a small number of hospitals in the province with the capability of performing these procedures. Donors to Royal Columbian Hospital Foundation have added to the technology by funding artificial intelligence software that assists the medical team in the initial diagnosis.
"Once the CT scan gets performed, this software will do a preliminary assessment of the brain," says Dr. Siu. "It will instantaneously notify the physician team of the patient's status while the patient is still on the CT scanner. A program like this saves us valuable minutes."
Weeks after his stroke, Dave was already back at work and says he feels great.
Don't Miss Your Chance to Win Big
Buy your tickets now and get ready for the excitement – the more participants, the bigger the jackpot and the more we can do for Royal Columbian Hospital.
Your participation means the world to them, and it helps them continue their mission of making a difference in the lives of those they serve.
Join RCHF's 50/50 Lottery today and be a part of something special.

Ticket Sales Close: Wednesday, September 27, 2023 at 11:59:59pm
Draw Date: Thursday, September 28, 2023, live on Facebook
Tickets available to British Columbia residents over 19 years of age