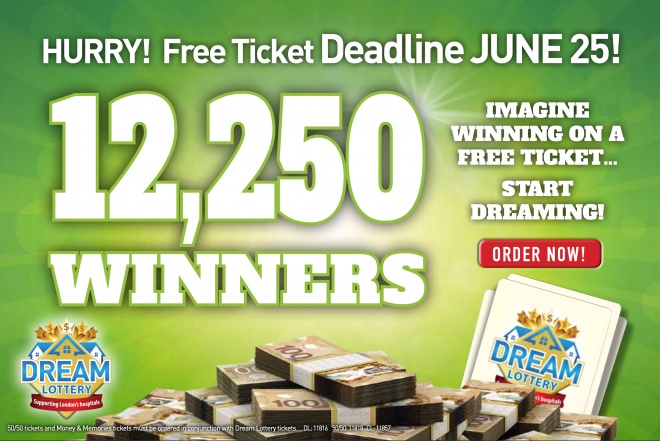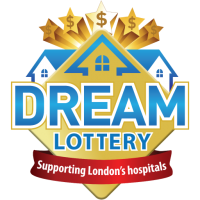 LONDON, ON, June 19, 2020 — Dream Lottery's Free Ticket Deadline is Midnight, June 25th! You do not want to miss out! For the first time EVER, we are giving away 12,250 FREE tickets! Imagine WINNING on a FREE TICKET… many have, and YOU could be next!
HURRY…You have less than one week to order your Dream Lottery tickets before the NEW Free Ticket Deadline is over!
Ordering NOW means you are in for ALL draws including LOYALTY, VIP, BONUS and EARLY BIRD! Plus, there's more prizes including vehicles, weekend getaways, home improvements and of course, the GRAND PRIZE! This year's grand prize winner will have their choice between 1 of 2 Dream Homes OR $1,000,000 CASH!
And NEW this year, we have more ways to WIN with our Money & Memories Calendar featuring more WINNERS than ever before with 3 Months of Winning – October, November & December!
PLUS, the ever popular 50/50 is back – last jackpot was RECORD BREAKING and reached MORE THAN $1,000,000 with the WINNER walking away with half!
Visit www.dreamitwinit.ca to view all prizes!
What could be better than ordering tickets to support a great cause with the chance to win big? It's a WIN…WIN! Don't wait!
For the safety of all valued supporters, Dream Homes will not be open for viewing this year, but no worries as you can view the Dream Homes and all other prize offerings right from the comfort of your own home at www.dreamitwinit.ca
Order tickets at www.dreamitwinit.ca
or by phone at 519-488-7100 (local) or 1-866-802-4117 (toll free).

Every Ticket Changes A Life!
Dream Lottery Licence 11816 | 50/50 Licence 11818 | Calendar Licence 11857