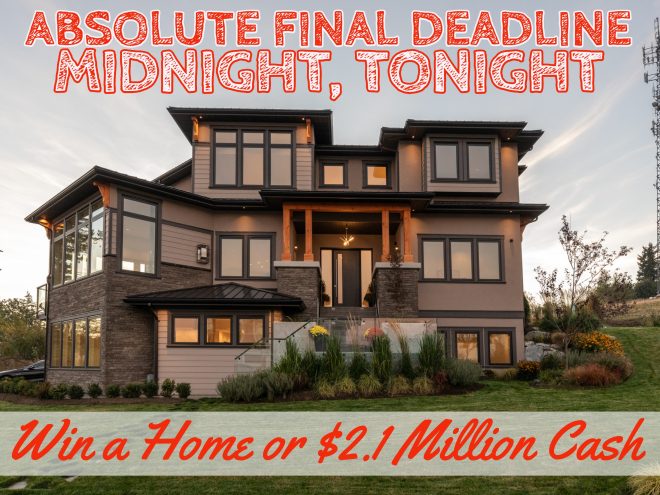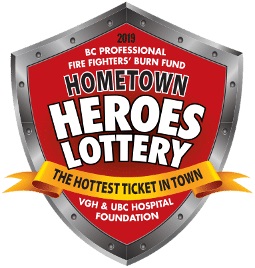 VANCOUVER, BC, July 11, 2019 – ATTENTION, BC: The Absolute Final Deadline for this year's Hometown Heroes Lottery is MIDNIGHT, TONIGHT!
Order now to win 1 of 9 Grand Prizes – the most in Hometown Heroes Lottery history! And there's more: over 3,100 prizes to win, worth over $3.4 million.
PLUS the 50/50 jackpot is over $1.5 Million and will keep growing until the end of the day… and the winner takes half!
Don't forget your Daily Cash PLUS tickets either for even more winning – 209 winners in 105 straight days of draws, with an extra $300,000 in cash up for grabs!
You Win, You Choose!
Which Grand Prize will be yours? This year's biggest prize is worth over $2.5 million!
There's the very best of the Okanagan – a stunning 2,500 square-foot vacation paradise in Lake Country (along the shores of Okanagan Lake) and $1.1 million cash, or a lakeview sub-penthouse in Downtown Kelowna (which comes with $1 million cash) – or the ultimate Vancouver city living Grand Prize, with a gorgeous penthouse condo at Central on Main Street, with a rooftop deck, a Tesla Model 3, furnishings, a European travel gift card, and $150,000 cash!
Or how about Cultus Lake? You'll love the outdoor life in this 2,075 square-foot, 3-bedroom, furnished home. Life is heavenly here – where friendships grow and families gather. And it comes with $1,000,000 cash!
Or there are two options on Vancouver Island – a 5-Bedroom Colwood home with jaw-dropping water views that comes with two BMWs, a Harley-Davidson, furnishings, and $900,000 cash, or a SookePoint Surfside Yacht Suite along the coast of the wild Pacific Ocean, with incredible views, a Tesla Model X, and $850,000 cash.
Or there's this year's two biggest homes, and this year's two biggest Grand Prizes! Choose a 4,550 square-foot Abbotsford home on Eagle Mountain (comes with $500,000 cash), or take the keys to an Ocean Park home in South Surrey – 4,580 square feet, furnishings, a BMW cabriolet, and $50,000 cash in a $2.5 million Grand Prize package.
Or take the 9th Grand Prize option – $2.1 million cash.
You could be a multi-millionaire – spend it, save it, share it, invest it as you wish. Treat the family, pay off your bills, your rent, or your mortgage, travel the world, go on a shopping spree, or purchase your very own dream home – the one you've always wanted.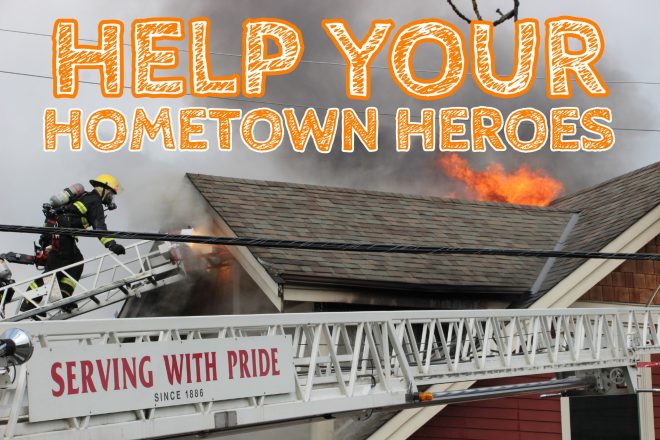 Support your Hometown Heroes… Every ticket changes a life!
Your lottery ticket purchases support VGH & UBC Hospital Foundation and programs of the BC Professional Fire Fighters' Burn Fund – including the annual Burn Camp for young survivors.
BC's Hometown Heroes come to the aid of people in life-threatening situations every day. From rescue to recovery, BC's fire fighters – along with the doctors, nurses and healthcare teams at Vancouver General Hospital – are always on duty for severely injured and critically ill British Columbians. When you need help, these heroes respond.

604-648-4376
1-866-597-4376
Buy in person at London Drugs, or at the show homes.


(Winner will choose one prize option; other prize options not awarded)