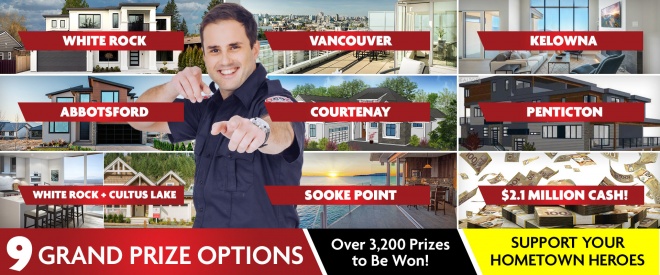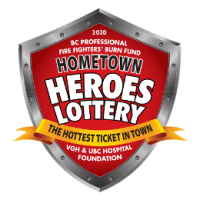 VANCOUVER, BC, Friday, May 1, 2020 — Hometown Heroes Lottery is back for 2020 – with 9 Grand Prize options, including $2.1 million cash or incredible home packages!
Win an amazing multi-millionaire lifestyle, and the choice is up to you: live in a charming, idyllic beach community in White Rock, in a 5,766 square-foot, 5-bedroom Marquis Custom Home, part of a $2.7 million Grand Prize package; head for the Fraser Valley in a 4,977 square-foot Abbotsford home on Eagle Mountain, with spectacular views and $500,000 cash; choose an Okanagan package in Kelowna at beautiful Kestrel Ridge, or just a walk from Okanagan Beach in Penticton; live that picture-perfect Island life in Courtenay's Crown Isle golf course resort community, or wake up with Pacific Ocean views and jaw-dropping sunsets at SookePoint; or choose a two-home Grand Prize – with a White Rock condo at Semiah and a Cultus Lake home at Creekside Mills. A stylish south coast condo and gated country living… It's the best of both worlds, in one Grand Prize!
Or you can choose the most versatile Grand Prize of all – $2,100,000 tax-free cash! Just imagine what you'd do first…
Order Early, Win More
Get your tickets today and you'll be automatically entered into three Bonus draws – including the Welcome Bonus, a special $25,000 draw for everyone who orders in the lottery's first few weeks. And you'll be automatically entered into a huge Early Bird draw worth over $150,000: choose two Tesla Model 3s, a massive travel package, or $100,000 cash. Plus, Hometown Heroes Lottery will draw 50 extra Early Bird winners of $500 cash each. That means there will be 51 Early Bird winners – and even more ways to join the winners list in 2020.
---

---
Over 3,200 prizes to win, worth over $3.5 million.
Don't forget to get your 50/50 PLUS tickets – to win half a jackpot that can grow to over $2.2 million – or your tickets for this year's extra game, the Daily Cash PLUS – with 105 days of winning, 209 winners, and $300,000 in cash prizes!
(50/50 PLUS tickets start at just 2 for $15; Daily Cash PLUS tickets start at just 2 for $25. Tickets must be ordered in conjunction for your main Hometown Heroes Lottery tickets.)
We're all in this together
Every ticket changes a life: They're there when you need them… now it's your turn to be there for them. BC's Hometown Heroes come to the aid of people in life-threatening situations every day. From rescue to recovery, BC's front line workers and first responders – our fire fighters, along with the doctors, nurses and healthcare teams at Vancouver General Hospital – are always on duty for critically ill and severely injured British Columbians. When you need help, these heroes respond.
Your Hometown Heroes Lottery ticket purchases support VGH & UBC Hospital Foundation, raising essential funds for specialized adult health services and research at VGH and UBC Hospital, GF Strong Rehab Centre, Vancouver Coastal Health Research Institute and Vancouver Community Health Services for all British Columbians. Ticket purchases also support programs of the BC Professional Fire Fighters' Burn Fund, including burn survivor support services and resiliency programs for fire fighters.
Thank you for purchasing your Hometown Heroes Lottery tickets.
---

Get your tickets online at heroeslottery.com
by Phone at 604-648-4376
or 1-866-597-4376
or in-person at London Drugs.
Due to concerns over COVID-19, public safety guidelines and our commitment to social distancing, there are currently no in-person sales at Vancouver General Hospital or the Hometown Heroes Grand Prize showhomes.

View the homes, photo galleries, and virtual tours on heroeslottery.com