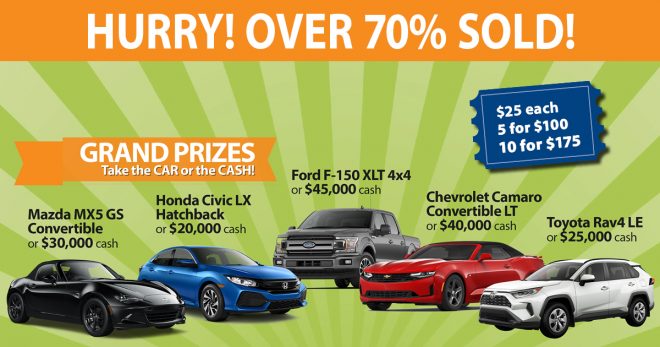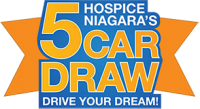 Ontario July 31, 2019. Time and Tickets are Running Out! This is Your Last Chance to Enter. The Grand Prize draws are this Monday, in Hospice Niagara's 5 Car Draw. Order your tickets now and on Monday you could be a lucky winner of these new vehicles:
2019 Ford F-150 XLT 4×4, or take $45,000 cash
2019 Chevrolet Camaro Convertible LT, or take $40,000 cash
2019 Mazda MX5 GS Convertible, or take $30,000 cash
2019 Toyota Rav4 LE FWD, or take $25,000 cash
2019 Honda Civic LX Hatchback, or take $20,000 cash
PLUS 5 prizes of $1,000 cash
LOWEST TICKET PRICE IN TOWN! Tickets for the Hospice Niagara 5 Car Draw are still only $25, with value bundles of 5 for $100 and 10 for ONLY $175!
FINAL COUNTDOWN! Don't Wait Another Minute! Over 70% of the tickets are already sold and your time is running out. Order your tickets online today and you could receive an amazing phone call on Monday afternoon. What a great way to end your long weekend!
Your Support Makes a BIG Difference. Your order helps Hospice Niagara provide meaningful care at no cost to help people and families across Niagara live well from the time of diagnosis, during treatment, through to end-of-life care and bereavement.
Visit the 5 Car Draw website for more information, or order online.
Or order by phone at 905-984-8766.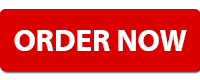 Lottery Licence #10673