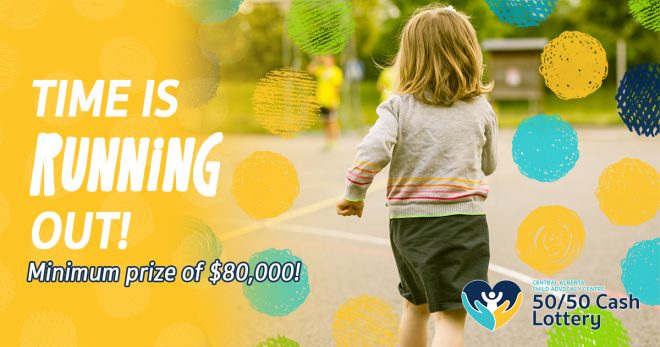 Red Deer, Alberta, February 29th 2020 — The clock is ticking for the Central Alberta Child Advocacy Centre 50/50 Cash Lottery! Get your tickets before it's too late!
Deadline: March 8th, 2020

Now is your chance to win a guaranteed $80,000 while changing the lives of children in your community!

Increase your odds with 10 for $25, 25 for $50 and 50 for $75!
The Central Alberta Child Advocacy Centre 50/50 Cash Lottery is helping the CACAC mission to end child abuse. This is where you can get involved and help your community!
One ticket can make all the difference – YOU can make all the difference.

Be Brave. Buy Your Tickets Today. Help support the CACAC and the over 884 children who courageously came forward to share their story.
Order your tickets online at cacac5050.ca or call 587-272-2233
About CACAC

The CACAC is dedicated to nobly protecting the innocent and vulnerable – our children. Their Centre is comprised of a collective that is driven by the courage to support children, youth and their families affected by abuse, enabling them to build enduring strength and overcome adversity. It takes courage to come together as a community to bring child abuse to the forefront, giving a voice to a difficult use that is often silenced.
As of February 28 2019, the CACAC has supported over 884 children, from 76 communities across Central Alberta. Two-thirds of these children have experienced previous abuse, and almost one-half have concerns such as mental health, substance abuse, suicidal ideation or attempts, and aggression.
To learn more about the CACAC and to order tickets, please visit: cacac5050.ca
Follow them on Facebook, Instagram and Twitter
Deadline: March 8th @ 11pm, draw March 17th @ 11am
Lottery License Number: 547979