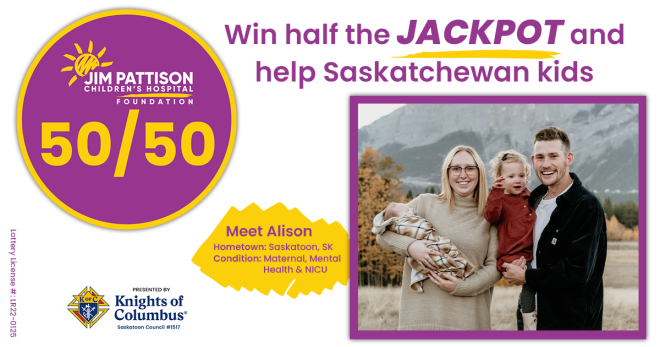 SASKATOON, SK, March 27, 2023 — The jackpot is OVER $40,000 and growing, with your chance to win half when you purchase tickets to Jim Pattison Children's Hospital Foundation 50/50!
Best of all, every ticket helps maternal and children's health, research, and innovation through Saskatchewan's Jim Pattison Children's Hospital and programs throughout the province.
This online 50/50 is presented by Knights of Columbus Saskatoon Council #1517.
TICKETS: 1 for $20 | 5 for $50 | 20 for $100 | 100 for $250

You can also purchase 50/50 tickets by calling 888-808-KIDS (5437)
Your 50/50 Purchase Helps Saskatchewan Moms Like Alison
Alison loves being a mom, but bringing life into the world came with some complications.
Alison lives with a variety of mental health diagnoses, including PTSD, anxiety and depression, which she anticipated would bring on additional challenges during pregnancy and child birth.
Alison's daughter Kinsley was born pre-mature at Saskatchewan's Jim Pattison Children's Hospital (JPCH) in July 2020 and she spent a week in the Neonatal Intensive Care Unit (NICU).
Alison's second pregnancy was much more complicated. Months before her due date, Alison had hydronephrosis, a build-up of urine in the kidneys, and was admitted to JPCH's maternal unit. She was in immense pain and her mental health was declining during her nearly three months stay, but Alison says the staff at Saskatchewan's Jim Pattison Children's Hospital were a huge help.
"The nurses and doctors were super understanding of my whole situation. Not only are you being cared for, but you're being heard and they do what they can to make you feel as comfortable as possible," Alison said.
Alison was induced in August 2022 and her son Boomer was born a month early. He was extremely sick and small, receiving specialized care in Saskatchewan's Jim Pattison Children's Hospital NICU for nearly a month before being able to go home. Today, both Boomer and Kinsley are healthy and thriving.
Learn more about Allison's story and buy tickets to support maternal and children's care in Saskatchewan today.

The deadline to buy tickets is April 21, 2023 at 3:00 p.m. The draw will be held on April 21, 2023 at 4:00 p.m. at Jim Pattison Children's Hospital Foundation 1 – 345 Third Avenue S, Saskatoon, SK. The winner will be notified by email or phone with instructions on claiming the prize.
See full rules of play details here.
TICKETS: 1 for $20 | 5 for $50 | 20 for $100 | 100 for $250
400,000 tickets available to a maximum jackpot of $1,000,000.
Lottery License #: LR22-0125