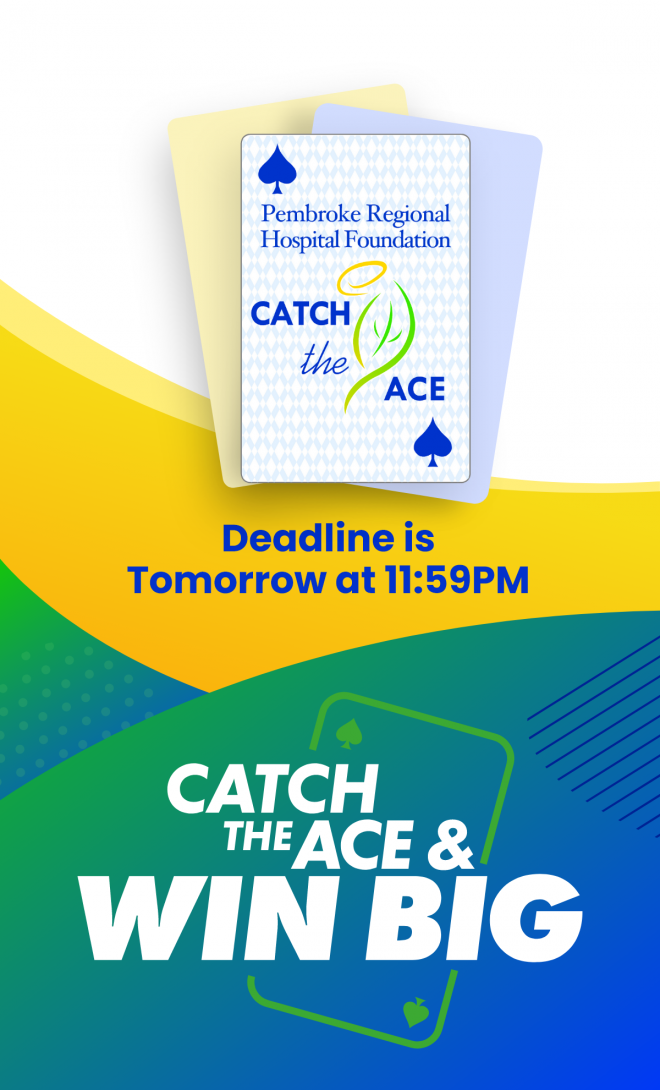 Pembroke, Ontario, March 22, 2021 — Support cancer care and potentially take home two jackpots when you play Pembroke Regional Hospital Foundation's Catch The Ace. Play every week to win the weekly prize and if you catch the ace of spades, take home the progressive jackpot – which this week is estimated to be $18,000!
GET YOUR TICKETS NOW
Tickets are 3 for $5, 10 for $10 or 40 for $20, our BEST VALUE!
It only takes one ticket to win it all!

MAKE A DIFFERENCE IN THE LIVES OF CANCER PATIENTS
The Pembroke Regional Hospital Foundation supports programs and services integral to advancing health care and the total well-being of the citizens of Pembroke and the surrounding communities.
Buy a Catch The Ace ticket to support and improve the care of cancer patients in the community. Proceeds from this raffle will help update and improve the hospital's cancer treatment areas, so optimal care is delivered to all patients.

DON'T MISS YOUR SHOT TO BE THIS WEEK'S WINNER
The deadline to play for this week's prize is tomorrow at 11:59 PM. Catch the weekly draw LIVE every Wednesday at 10 AM to find out if you're our lucky winner!
Good, luck!

Pembroke Regional Hospital Foundation
705 Mackay St.
Pembroke, ON
K8A 1G8
[email protected]
Lottery License #1201761