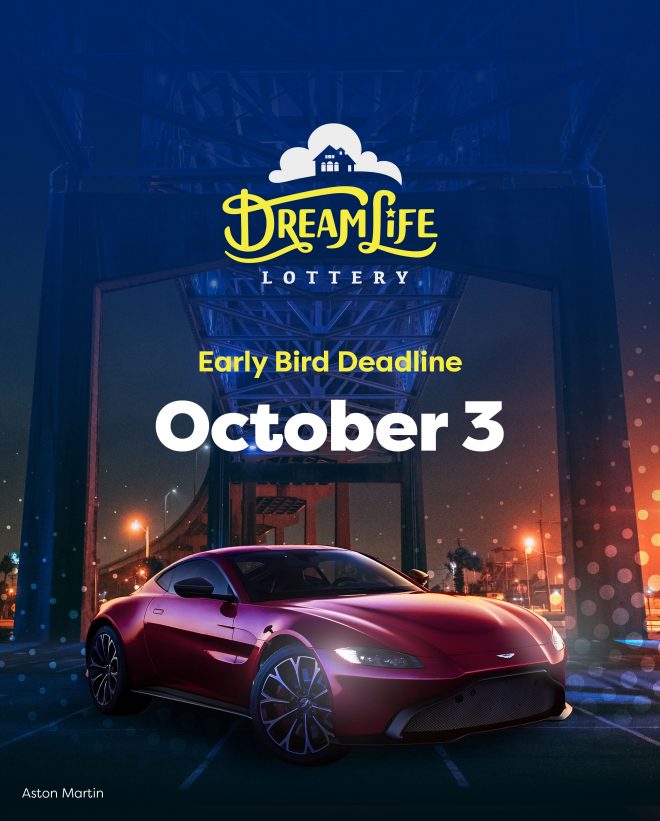 DreamLife Lottery Early Bird Deadline Midnight October 3rd!
EDMONTON, Alberta, October 2, 2019 — DreamLife Lottery's Early Bird deadline is fast approaching! Buy your tickets by midnight, October 3rd to be entered for your chance to win this $265,000 Early Bird prize! You could be the lucky winner of an Aston Martin Vantage, a dream vacation – a Tour of Italy and don't forget the $5,000!
Along with your chance to win the amazing Early Bird package, you'll also be entered in for all the other prizes (minimum prize value of $1,000) including the $2 Million fully furnished Dream home, built by Vicky's Homes – A Mike Holmes approved Builder!
Help our Hospitals with Heart! To see how your ticket purchase makes a difference click here
Tickets available now at www.dreamlifelottery.win
$100 each
3 for $250 ($83.33/ticket)
6 for $375 ($62.50/ticket) or our best value of
12 for $525 (ONLY $43.75 a ticket)
Main Lottery 528694 Calendar Lottery 528690 Split 50 Lottery 528692