VANCOUVER, BC, November 23, 2017 — Order your tickets before midnight tomorrow (November 24) and be eligible to win the $35,000 Fall Bonus in the VGH Millionaire Lottery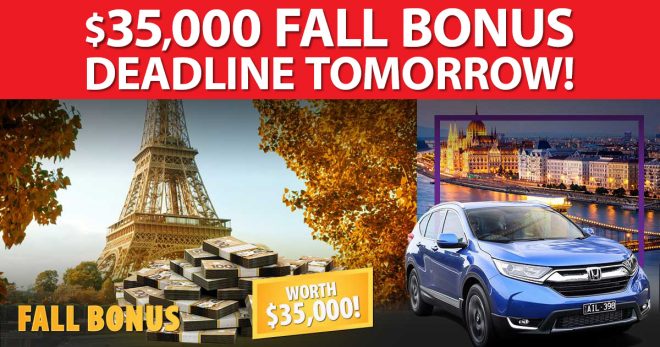 There are three exciting options for the winner to choose from: a brand-spanking new 2018 Honda CRV-LX AWD, or you can choose the $30,000 vacation/travel gift card + $5,000 cash option instead, or choose $30,000 cash and create your own adventure! Winner will choose one prize option; other prize options will not be awarded.
Make sure to purchase your tickets before the Fall Bonus deadline of midnight, November 24. Order your tickets online, or call 604-602-5848 or toll-free 1-888-445-5825.
The Millionaire Lottery offers seven Grand Prize options including $2.7 million cash, winners will be rich with cash and rewards… over $4.3 million in prizes to win in the main lottery alone! Best of all, all the money raised stays right here in BC!
The 50/50 jackpot was a whopping $1,645,560 last year and can climb to an astounding $2,200,000 this year! Winner takes half. The Daily Cash Plus promises 62 winners that will be drawn from February 6 to April 8, 2018 and will walk away with $3,000 cash. On April 9, 2018, one Ultimate Daily Cash winner will receive $50,000 cash.