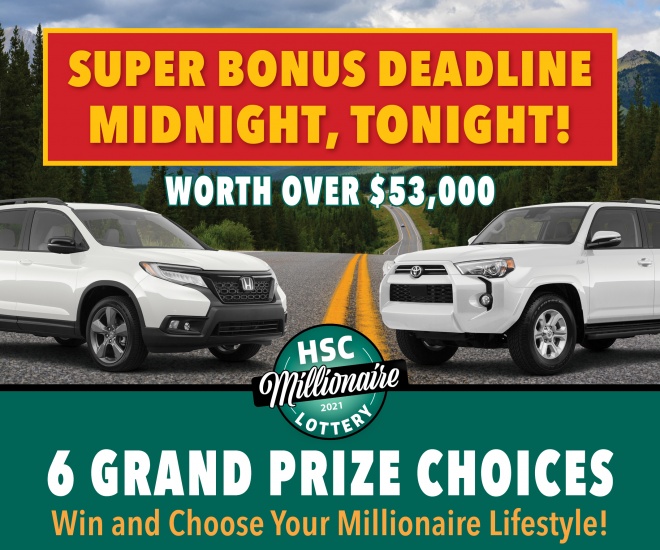 WINNIPEG, Manitoba, Friday, October 15, 2021 — Order your HSC Millionaire Lottery today – and get in to win this year's biggest bonus draw!
Every ticket ordered before Midnight, Tonight (Friday, October 15) will be entered to win one of five Super Bonus prize options, including a 2021 Honda Passport, a 2021 Toyota 4Runner, a Dufresne furniture/appliance credit and cash, a CWT Vacations travel voucher and cash, or $45,000 tax-free cash.
(This year's biggest Super Bonus prize option is worth over $53,000.)
Time is running out to get your tickets for this fall's biggest home lottery!
UPDATE: The 2021 HSC Millionaire Lottery is almost 90% sold out.
With your tickets, you'll be automatically entered in all of this year's biggest prize draws:
Win the Grand Prize Draw and choose one of six amazing prize options, including home packages worth up to (and over) $1.55 million, or $1.2 million tax-free cash.
Get in to win the huge Early Bird! 26 draws, $220,000 in total prizes to win – including a $150,000 cash prize.
In total, there are over 2,000 prizes to win in the 2021 HSC Millionaire Lottery, worth millions. Win homes, cars, trucks, furniture, travel gift cards… and, of course, cash!
Get your tickets for the Extra Cash PLUS – 124 winners, $144,000 in prizes – and the 50/50 PLUS to win even more.
The 50/50 jackpot is already over $1 million – and it will top $1.1 million later tonight. Winner takes half.
*50/50 PLUS and Extra Cash PLUS tickets both start at just 2 for $20 (and must be ordered in conjunction with your HSC Millionaire Lottery main lottery tickets).
---
It's a Win-Win
With your support, you're helping save lives at Manitoba's hospital: Health Sciences Centre (HSC).
"Each lottery ticket purchase has the power to change multiple lives – the ticket buyer's and people in need at HSC," said Jonathon Lyon, President and CEO of HSC Foundation, in a recent interview with the Winnipeg Free Press.
All ticket purchases in the 2021 Millionaire Lottery help HSC provide the best possible care for patients, and make technological advances that turn dreams into reality.
"Government can't and won't fund everything," says Lyon. "Philanthropy plays an important role."
Your tickets have a tremendous impact on everyone who depend on HSC every single day, from patients and families to the hospital's doctors, nurses, researchers, staff, and health care workers.
---
HOW TO ORDER
Order online at HSC Millionaire Lottery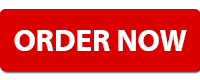 By Phone: 204-253-5688
Toll-Free: 1-855-999-5688
Tickets are available to purchase in-person at London Drugs at St. Vital Centre, Red River Co-op Food Stores in Grant Park, Southdale, and St. Vital, Main Street Co-op Pharmacy, and most Shoppers Drug Mart locations in Winnipeg, plus Shoppers Drug Mart in Selkirk and Portage la Prairie.
Tickets cost 1 for $100 / 2 for $175 / 4 for $300 / 8 for $500 (SOLD OUT)
50/50 PLUS tickets are 2 for $20 / 8 for $40 / 30 for $60
Extra Cash PLUS tickets are 2 for $20 / 5 for $40 / 10 for $60
50/50 PLUS® and Extra Cash PLUS™ tickets can only be ordered with your 2021 HSC Millionaire Lottery main ticket(s) on the same transaction.
---
LGCA 1822-RF-36007, LGCA 1822-RF-36008, LGCA 1822-RF-36009