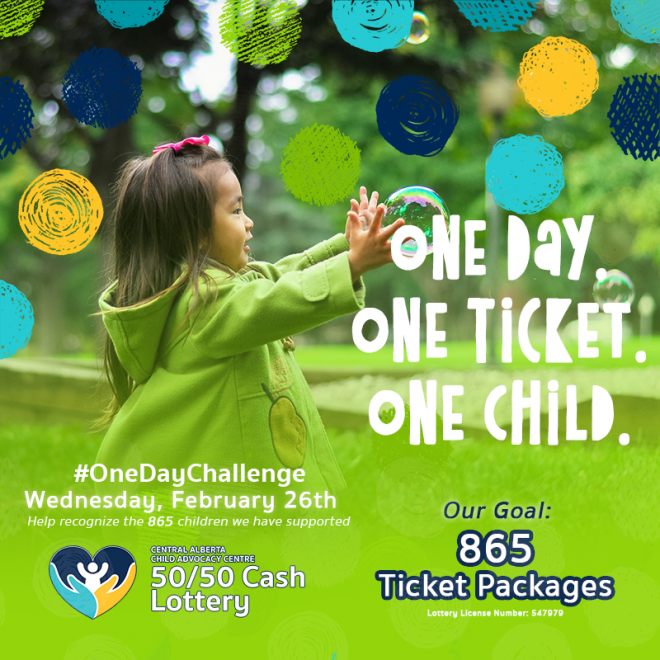 Win a minimum of $80,000 while supporting and recognizing the brave children of our province!

Red Deer, Alberta, February 26th 2020 — Are you up for the Challenge!?
The Central Alberta Child Advocacy Centre is putting on their One Day Challenge TODAY – and they need your help!
Every 50/50 Cash Lottery Ticket Package sold today will be in recognition and honor of the brave children supported at the Centre.

Take the Challenge – Buy Your Tickets – Challenge your friends and family to do the same – Share on Social Media! #CACACOneDayChallenge
Tickets start at just $10
Increase your odds with 10 for $25, 25 for $50 and 50 for $75!
This challenge is not just about the Cash Prize with the chance to win up to $200,000, but about the children that the CACAC support every day.
GOAL: 865 Ticket Packages in Recognition of the 865 Children Supported.
Your ticket today supports the efforts of the CAC – advocating for the youth of our communities and their families who have been impacted by child abuse.
The Deadline is fast approaching – TODAY is the day to buy before it's too late!
To purchase tickets online or for more information visit our lottery website: cacac5050.ca or call: 587-272-2233.
Phone lines will be open from 8:00am – 4:00pm; voicemails can be left and will be answered the following business day
About CACAC
The CACAC is dedicated to nobly protecting the innocent and vulnerable – our children. Their Centre is comprised of a collective that is driven by the courage to support children, youth and their families affected by abuse, enabling them to build enduring strength and overcome adversity. The CACAC works in a collaborative effort with RCMP, Alberta Health Services and Children's Services to better support children that have been impacted. It is a safe place where a child can bravely share their story and receive wrap-around support through the entire process. It takes courage to come together as a community to bring child abuse to the forefront, giving a voice to a difficult use that is often silenced.
As of January 31, 2020, the CACAC has supported over 865 children, from 76 communities across Central Alberta. Two-thirds of these children have experienced previous abuse, and almost one-half have concerns such as mental health, substance abuse, suicidal ideation or attempts, and aggression.
To learn more about the CACAC and to order tickets, please visit: cacac5050.ca
Follow them on Facebook, Instagram and Twitter
Deadline: March 8th @ 11pm, draw March 17th @ 11am
Lottery License Number: 547979