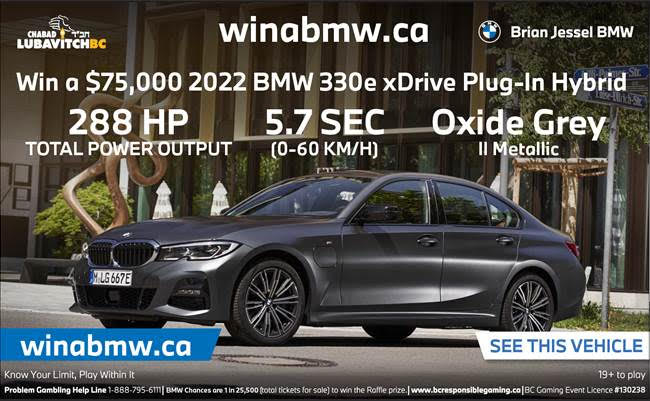 VANCOUVER, BC, January 10, 2022 — Only 20 days remain and time is running out for your chance to drive away in the beautiful $75,000 2022 BMW 330e xDrive Plug-In Hybrid vehicle courtesy of Brian Jessel BMW Foundation, which includes insurance for year 1 from ALLWEST Insurance. Also take a chance in the new added 50/50 jackpot, currently over $35,000.
Chabad BC is proud to present their second annual Win A BMW lottery in support of key children's programs across British Columbia. Draw will take place live on Sunday January 30 at 6 p.m. from Brian Jessel BMW at 2311 Boundary Road Vancouver. And this year, the car raffle is bigger and better than ever!
Start your 2022 with a bang if you're the lucky winner of the ultimate hybrid Driving Machine!
ENTER NOW AND YOU COULD WIN BIG