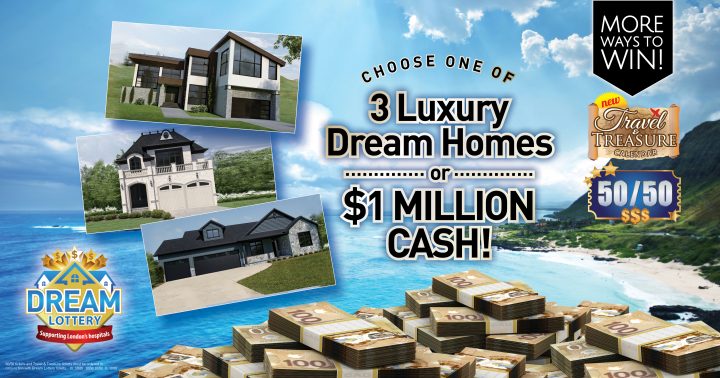 LONDON, ON, April 18, 2019 — Dreams are being built and designed … and with last Spring's Dream Lottery selling out early, we want you to be one of the first to know so you don't miss out!
Dream Lottery has the most affordable tickets for your chance to win your choice between 1 of 3 luxurious Dream Homes or $1 Million Cash … tickets start at just 2/$50!
Featuring a NEW Builder this year, a returning FAVOURITE builder and the Best of London 2019 Interior Decorator Jillian Summers!
Starting Dreaming with …
A Jefferson Dream Home located in Wickerson Woods, London, this Industrial Chic showcases trends with exposed brick walls and metals that will mix and match modern details with industrial charm!
OR another Jefferson Dream Home located in Wickerson Woods, London! This French Provincial showcases a warm and cozy home that is timeless and beautifully simple – and it comes complete with $250,000 CASH!
OR a Nicholson Pinery Dream Cottage, Grand Bend! This wooded lot with have you living in harmony with nature and the stunning interior showcasing shiplap captures the look of a classic beach cottage … complete with $250,000 CASH!
Of course, if a Dream Home or Dream Cottage isn't in the plans, Dream has you covered with $1 Million Cash! Make your own dreams become reality … let your imagination run free!
Order Early and you'll be in for ALL DRAWS! That's right, order before MIDNIGHT, MAY 9 and you are in for Loyalty, VIP, Bonus, Early Bird and all Final Draws!
It all starts with the LOYALTY DRAW … need a Date Night? Will you take a Date Night in Paris, the Most Romantic City or take the Cash? PLUS there's more as 5 Winners will win a Date Night for an Entire Year or there's a Cash Out option upfront! You WIN … You Choose! Plus 3,500 Winners will receive a FREE TICKET!
Speaking of being in for ALL DRAWS, Dream Lottery is pleased to introduce NEW this year … MEMBERSHIPS! When you order your tickets, you will have the option of signing up to become a Member, making it easy and convenient for you to get your tickets for future Dream lotteries! Guaranteed tickets mean you Never Miss Out – become a Member Now!
For more chances of winning, the popular 50/50 is back, giving you the chance to get in on LONDON'S BIGGEST 50/50 JACKPOT! Last Spring's jackpot was Record Breaking at over $1 Million… Half to you, half to local London's hospitals, it's a WIN-WIN! Tickets starting at just 2/$15!
PLUS, NEW this year, we have more ways to WIN with our Travel & Treasure Calendar, featuring Treasure Tuesdays! It's your chance to WIN every day in the month of August! Tickets starting at just 5/$20!
So much to WIN, including vacations, vehicles, cash, and more! Visit the Dream Lottery website to see over the 12,000 prizes to be won, information on how to order tickets, and more details about the lottery!
Remember, by ordering tickets for the Dream Lottery, you are helping London's hospitals provide outstanding specialized, complex and critical care for patients from across our region.
It's a WIN … WIN! To see how Dream Lottery helps these hospitals make a difference, read about our three featured patients online.

Order tickets online, participating Shoppers Drug Mart locations, or by phone 1-866-802-4117.
Dream Lottery Licence 10699 | 50/50 Licence 10700 | Calendar Licence 10701