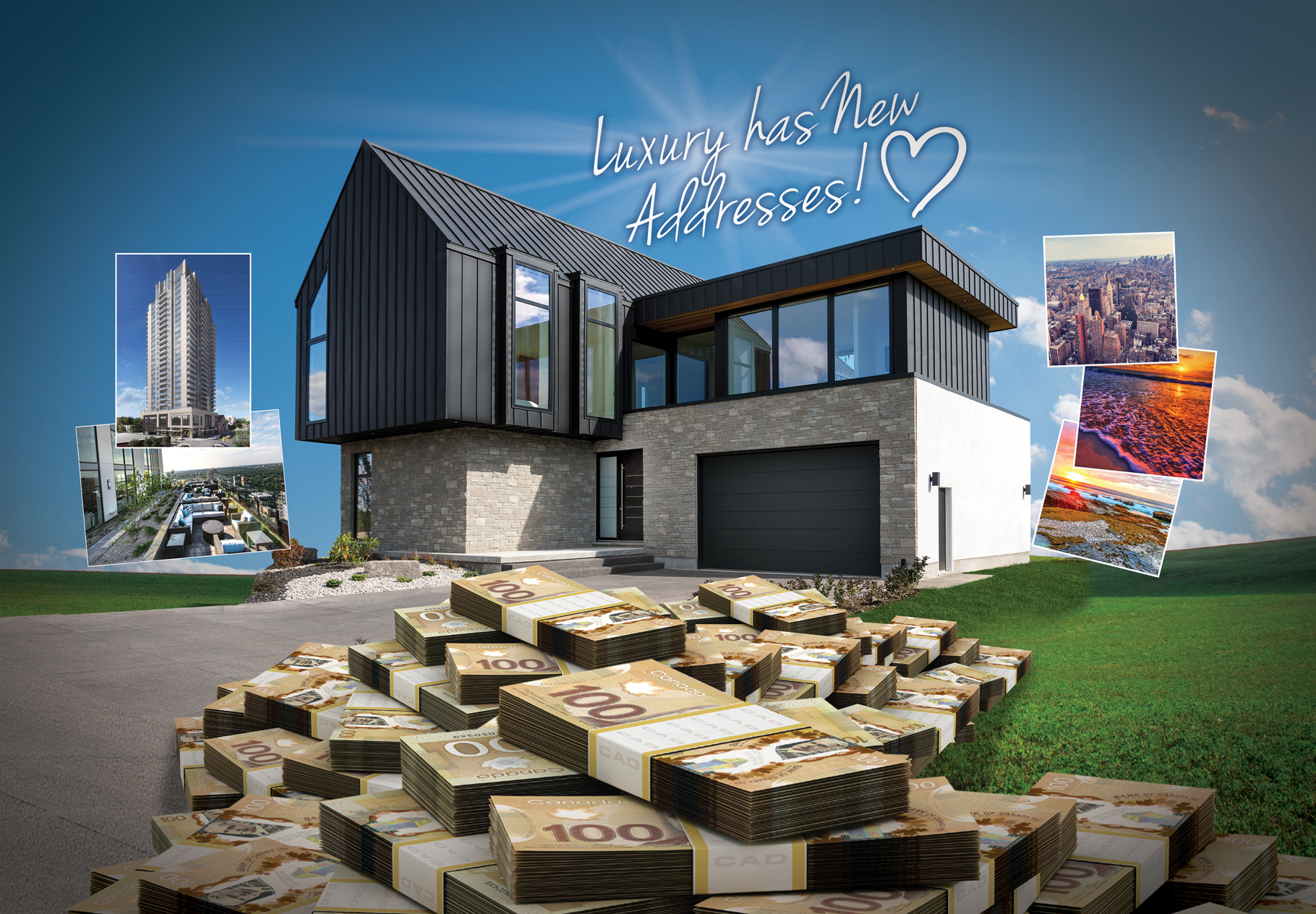 Tickets are now on sale for the Fall Dream Lottery
Supporting London's hospitals!
LONDON, ON, October 3, 2018 — Dreams just keep building and with the last two Dream lotteries selling out early, we are anticipating it to happen again!
Dream Lottery has the most affordable tickets to win your choice between 1 of 2 luxury homes or $1 Million Cash … tickets start at just 2/$50!

At 7375 Silver Creek Circle, you'll approach the newest Dream Home by Millstone Homes of London! It will quickly become clear that this home is unlike any other seen before! This builder has become synonymous with luxury and livability with flair! Minimalism and texture were the guiding principles employed in the home to produce a clean design with warm touches. Conveying a home experience new to London.
If you're looking for first impressions in Condo living, the Tricar Azure high-rise building is where you want to be! This inspired tower of modern architecture sets a new standard of downtown living. Once you enter, you'll be impressed by a warm, modern lobby, and wait till you see the Condo with open space plans and quality details of luxury! This unit is designed to maximize comfort and livability, along with a 29th floor rooftop terrace and comes with $500,000 CASH!
If a Dream Home or Condo isn't in the plans, what about $1 Million Cash! Make your own dreams become reality … let your imagination run free! A million dollars can go a long way and it could be yours!
Visit the Dream Lottery website to see over 12,000 prizes to be won!
Order Early and you'll be in for all draws! It all starts with the LOYALTY DRAW … what's your lucky number? Take a chance on our Roulette Wheel where 36 Winners will receive various amounts of CASH! Plus 3,500 Winners will receive a FREE TICKET … Imagine winning on a free ticket – last year's winners did, and you could too! Make sure to order your tickets before the first ticket sale deadline on MIDNIGHT, OCTOBER 18!
But there's more like the VIP DRAW … did someone yell Bingo? Mark off your card and get ready to yell BINGO as 24 Winners will receive various amounts of CASH! Plus, another 3,500 Winners will receive a FREE TICKET!
Plus, more! How about our BONUS DRAW, offering weekend cash for a year or a Robert Q Travel Certificate or CASH!
Now does anyone need Cash before Christmas? We've got you covered in our EARLY BIRD DRAW! We want to make your Christmas shopping a little less stressful on the bank account. 100 Winners will receive various amount of CASH! Get ready to win CASH … MOULAH… DOUGH or whatever you want to call it!
For more chances of winning, the popular 50/50 is back, giving you the chance to get in on LONDON'S BIGGEST 50/50 JACKPOT! Last year's jackpot was Record Breaking over $1 Million… Half to you, half to Local London's hospitals, it's a WIN-WIN! Tickets starting at just 2/$15!
PLUS, NEW this year, we have more ways to WIN with our Riches & Relaxation Calendar! It's your chance to WIN every day in the month of February! Tickets starting at just 5/$20!
So much to WIN, including vacations, vehicles, cash, and more! For a full list of prizes, information on how to order tickets, and more details about the lottery visit the Dream Lottery website.
Remember, by ordering tickets for the Dream Lottery, you are changing a life and supporting patient care at London Health Sciences Foundation, Children's Health Foundation, and St. Joseph's Health Care London.
It's a WIN … WIN! To see how Dream Lottery helps these hospitals make a difference, read about our three featured patients online.
Order tickets online, participating Shoppers Drug Mart locations, or by phone 1-866-802-4117.

Dream Lottery Licence 10138 | 50/50 Licence 10139 | Calendar Licence 10140