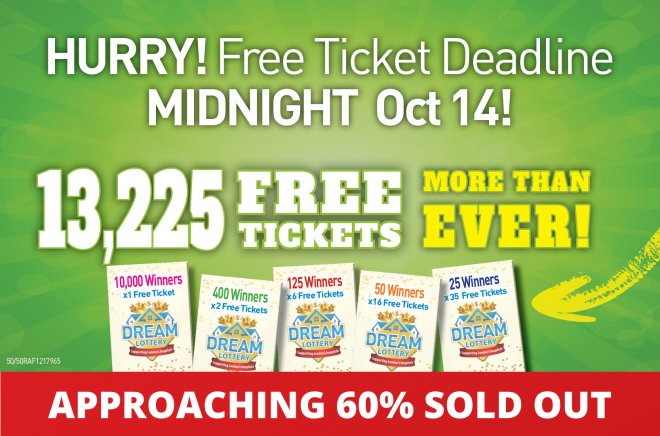 LONDON, Ontario, October 8, 2021 — In just one week, Dream Lottery is already APPROACHING 60% SOLD! Plus, there's less than one week left to get your tickets before the Free Ticket Deadline October 14! Time and tickets are flying by, and if you wait, you'll miss out!
Order your Dream Lottery tickets before the Free Ticket Deadline to be in for ALL Draws, giving you more chances to WIN! It all starts with 13,225 FREE TICKETS – the most EVER! Remember, free tickets get entered in all draws to follow, getting you one step closer to the Grand Prize choice of the Bridlewood Dream Home, Wastell Dream Home PLUS Cash, Vacation For Life or $1,000,000 CASH!
Don't forget the Making a Difference Calendar featuring 111 DAYS of Winning- our longest calendar yet! Get in for 2X $1,000 daily CASH winners, plus Winning Wednesdays where we double the fun with 4 lucky winners of $1,000 CASH!
Can you believe there are even more ways to WIN? Don't forget to get in on London's Biggest 50/50 Jackpot! The last winner took home over $647,000, but this year it gets even better! The fall 50/50 winner will be going home with not only hundreds of thousands in CASH but also a BONUS PRIZE! That's right, take the cash AND the vacation, because this 50/50 comes with the winner's choice between a $5,000 Robert Q Gift Certificate OR $4,000 BONUS CASH!
Don't wait because Dream Lottery has a history of selling-out early and is on track to do so again! Tickets start at just 2 for $50 (that's only $25 a ticket) and that ticket could make you a Millionaire!
Order tickets NOW online for Dream Lottery
or by phone at 1-866-802-4117.

Every Ticket Changes A Life!
DLRAF1217968| 50/50RAF1217965 | CLRAF1217967