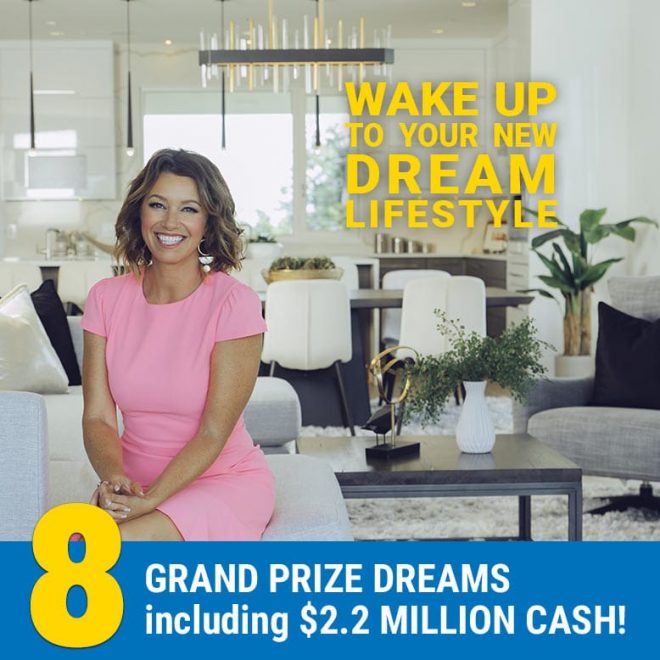 VANCOUVER, BC, July 24, 2019 — Get your tickets today — to win big and support BC Children's Hospital Foundation!
The Dream Lottery is back for 2019 with 8 Grand Prize options, including Dream Home packages all across beautiful British Columbia in White Rock, Tsawwassen, South Surrey, Vancouver, Vancouver Island (in Victoria and Courtenay) and the Okanagan (at Vernon's Predator Ridge). Or choose $2.2 million in cash!
**Head online to bcchildren.com today to see the Photo Galleries of all this year's homes, plus take Virtual Tours of the homes in White Rock, Tsawwassen, and Vancouver Island**
Plus, early buyers win more…
Get your tickets right away and you'll be automatically entered into the $32,000 Appreciation Reward Draw, to win a car, a European Tour travel package, or $26,000 cash. And you'll be entered into the Summer Bonus Draw, the Fall Reward Draw, the $350,000 Early Bird Draws, and of course the Grand Prize Draw, where the lottery's biggest winner will choose 1 of the following 8 Dreams:
A 'West Coast Living' palace in White Rock – 6,200 square feet on levels, with views of the Pacific Ocean and Mount Baker – built by Rychter Custom Homes. (This is this summer's biggest Grand Prize package, worth over $2.8 million.)
For the first time ever, a home in sunny Tsawwassen in exclusive Beach Grove – a stunning 2,671 square-foot home just steps from Boundary Bay, built by Pine Construction, and it comes with $500,000 cash.
Or choose two Foxridge homes in South Surrey – side by side, each home is over 2,600 square feet with 4 bedrooms, 4 bathrooms, and this Grand Prize is worth over $2.5 million.
How about your very own home in the Okanagan? Live your best life at Predator Ridge, with a $2.5 million Grand Prize package that includes two Porsches, furnishings, and $1,500,000 cash. Wow!
Maybe you'd rather live in the city – and you can do that in False Creek with a Vancouver Grand Prize condo at Pinnacle on the Park, part of a $2.5 million Grand Prize package that includes a 2019 Tesla Model X SUV and $600,000 cash.
Or choose a different city – live in Capital Park Residences in Victoria, right downtown near the city's gorgeous Inner Harbour, with two new cars and $800,000 cash.
Ultimate 'Island Living' is only a win away, and this year's Grand Prize at Crown Isle (Courtenay) comes with furniture, a BMW SUV, a Harley Davidson, and $650,000 cash – not to mention a beautiful 3,989 square-foot home that will have you enjoying luxury golf course living all year round!
Or… choose the cash prize and live your dreams with $2.2 million in tax-free cash. It's the most versatile prize of all – and it's up to you how you spend it!
PLUS, get your 50/50 tickets to win half of a massive jackpot – last year's topped $1,776,000.
And get your Daily Cash PLUS tickets to get yourself into 102 extra draws – with an extra $345,000 in prizes.
---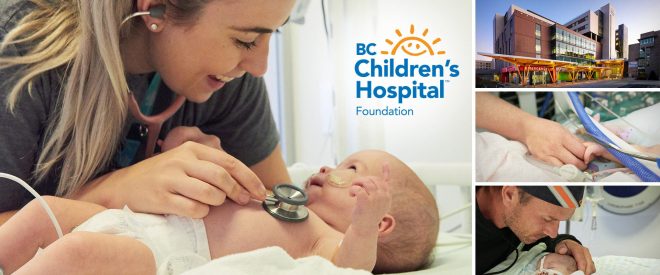 By purchasing a lottery ticket, you're helping shape the future of child health.
That's because proceeds go toward research initiatives at BC Children's Hospital — supporting over 1,000 of the most daring thinkers in science as they work to pursue new knowledge. Their discoveries are then translated directly into improved care to benefit kids receiving care from the hospital.
As the only hospital in the province devoted exclusively to kids, over a million count on BC Children's for care they often can't get anywhere else. And thanks to your support, BC Children's can help improve their lives today and define the future of children's health care for generations to come.
By supporting the Dream Lottery, you're helping make more breakthroughs a reality.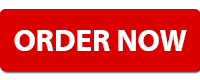 Get your tickets online at bcchildren.com
by Phone at 604-692-2333
or 1-888-887-8771
or in-person at the Grand Prize Showhomes:
in South Surrey
(See Addresses and Hours online)
or at BC Children's Hospital:
938 West 28th Avenue, Vancouver, BC
or at any London Drugs or
Save On Foods in British Columbia