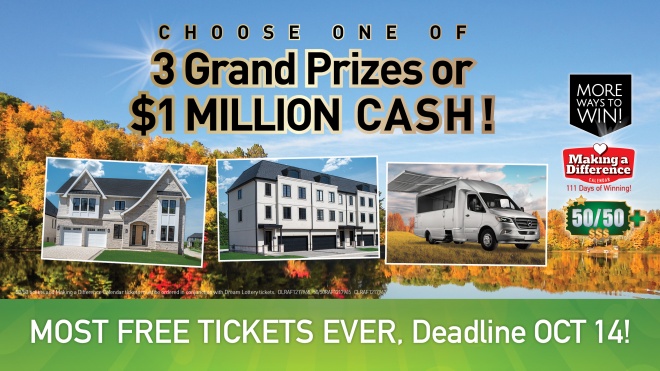 LONDON, Ontario, September 28, 2021 — The wait is over…Dream Lottery is BACK!
It's time to start dreaming because this fall you have THOUSANDS of chances to WIN! Vehicles, hot tubs, snowmobiles, ATVS, dream vacations and so much more!
Best of all, this year's Grand Prize winner has the choice between 1 of 3 options or $1 Million CASH! It won't be an easy decision to make because these prizes are incredible. See for yourself:
It all kicks off with the biggest Free Ticket Giveaway with 13,225 winners. So, order early and you could multiply your chances to WIN!
The excitement never ends because there's even more chances to WIN. New this year 50/50+ gives you the chance to win half the jackpot PLUS a BONUS PRIZE. The Making A Difference Calendar has also reached new heights with 111 Days of Winning – the longest yet!
So much to WIN, but so little time. Last Dream Lottery sold out in just 2 WEEKS! Don't delay because dreams are going to come true and it could happen to YOU!
Order tickets NOW online for Dream Lottery
or by phone at 1-866-802-4117.

Every Ticket Changes A Life!
DLRAF1217968| 50/50RAF1217965 | CLRAF1217967