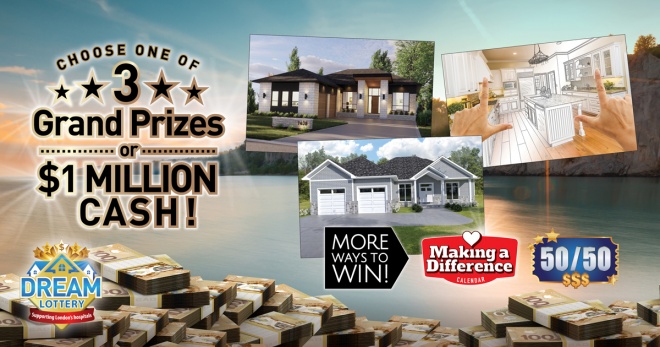 LONDON, ON, April 8, 2021 — The good news you've been waiting for…Dream Lottery is back and we're bringing you THOUSANDS of chances to WIN!
Vehicles, Cash, Ontario Getaways and so much more including 1 of 4 Ultimate Grand Prizes! This year's winner will choose between The London Dream Home, The Grand Bend Dream Cottage, a Dream Home Makeover or $1,000,000 CASH!
As always, there are even more ways to WIN! Get in on London's Record-Breaking 50/50 Jackpot … our last winner took home over $633,000!
And don't forget, we're featuring a year's worth of your needs with 3 Months of Winning in the Making a Difference Calendar!
Don't wait because Dream Lottery has a history of selling-out early! Tickets start at just 2 for $50 (that's only $25 a ticket) and that ticket could make you our newest Millionaire!
Order tickets NOW online for Dream Lottery
or by phone at 1-866-802-4117.

Every Ticket Changes A Life!
DLRAF1203812 | 50/50RAF1203811 | CLRAF1203813