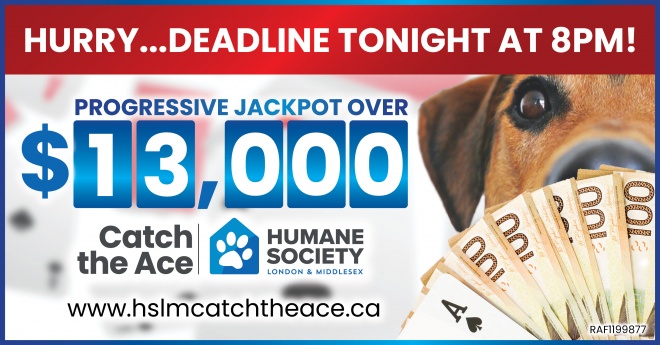 Deadline in
LONDON, Ontario, February 18, 2021 — It's Week 4 of Humane Society London and Middlesex's Catch the Ace and the Ace of Spades is still hiding! ORDER NOW to get in for this week's draw!
Winners in the first 3 Weeks all walked away with OVER $2,000 from the Weekly Jackpots! Their envelope selections didn't unveil the Ace of Spades for the Progressive Jackpot so it's now OVER $13,000 & Growing! Raise the "woof" for 2 chances to WIN BIG, but not without a ticket!
Someone has to WIN…why not YOU?
HURRY DEADLINE is Fast Approaching – 8:00 p.m. TONIGHT!

Every ticket purchased will directly support Humane Society where net proceeds will be used for the care and shelter of surrendered pets in the City of London, and Counties of Elgin, Middlesex, and Oxford.
Lottery Licence RAF1199877