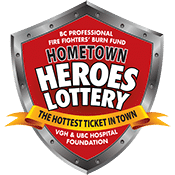 VANCOUVER, BC, June 28, 2017 — Time's running out to get your 2017 Hometown Heroes Lottery tickets and be eligible to win the $135,000 Early Bird prize! The winner will choose from three incredible prize options but first, you have to buy your tickets before the deadline, which is midnight on Thursday, June 29, 2017.
Prize option #1 will get you the nod of approval from both your car-enthusiast and eco-friendly friends, as it is the 2017 Tesla Model X 75D!

Or perhaps you care little about cars and a lot about travel, in which case you'll take the TWELVE $8,000 vacations option that each come with $2,000 cash! Or, take the money and run; you could go far with the $105,000 cash option.

The winner will choose one prize option; other prize options will not be awarded.
The Early Bird deadline is Midnight, June 29, 2017.
Tickets purchased before the Early Bird deadline will also be entered into the Grand Prize/Final Draws in August. For another chance to win cash, you can order tickets to the 50/50 Plus™ and the Daily Cash Plus™ games.
Tickets in the Heroes Lottery are available for 3 for $75, 6 for $100, or 20 for $275. 50/50 Plus™ tickets are 2 for $15, 6 for $30, or 20 for $60. Daily Cash Plus™ tickets are $20 each or 3 for $40.
Tickets can be ordered online, by mail/fax, in-person at the prize homes, London Drugs, or VGH Hospital, or by phone: 604-648-4376 or toll-free 1-866-597-4376.
For a reference list of prizes and details about the lottery including how to purchase tickets, check out our 2017 Hometown Heroes Lottery reference page.