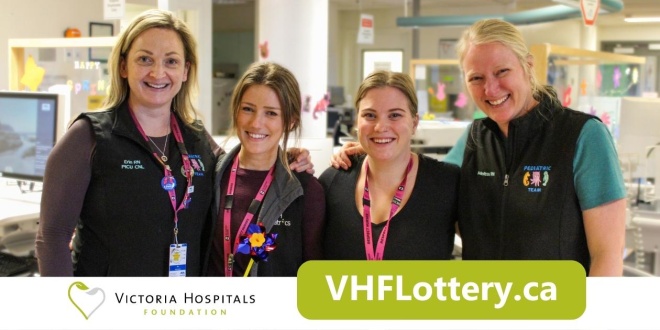 VICTORIA, BC, May 26, 2023 — The Pediatrics 50/50 Raffle, presented by Abstract Developments, is your chance to win big while supporting local hospital care through the Victoria Hospitals Foundation. The jackpot has quickly grown to over $42,000 and continues to climb! There is only just over one week left to buy your tickets, so don't wait!
You could be the lucky winner of half the total jackpot while the other half supports pediatric care at Victoria General Hospital. And since Victoria General Hospital is Vancouver Island's referral centre for ­­pediatric and maternity care, you have the power to impact all 860,000+ that call the Island home.
Your raffle ticket purchase helps fund sophisticated technology and new equipment that enable maternity and pediatrics teams to carry out delicate and highly specialized treatments. Show your support for the teams that care for our Vancouver Island children and grandchildren. Click here to purchase your tickets now!
This is also a great way for your friends and family to join you in supporting our local hospitals—please help us spread the word. Anyone 19+ in BC can purchase a ticket.
Tickets start at just $10! Purchase your tickets now.
Thank you and good luck!
Thank you to Abstract Developments for making this lottery possible. We also recognize CFAX 1070, Virgin Radio, CTV Vancouver Island, Black Press Media, and Used.ca for their generous support.


Important Dates
50/50 Raffle Ticket Sales End:Monday, June 5 at 11:59 p.m.
50/50 Raffle Draw Date:Wednesday, June 7 at 10 a.m.
About the Victoria Hospitals Foundation
The Victoria Hospitals Foundation (VHF) works in partnership with Island Health to enable donations to every area of care at Royal Jubilee, Victoria General, and Gorge Road hospitals. Donations support funding of medical equipment, special projects, education, and research. Since 1989, VHF has raised more than $180 million to benefit local hospitals and our Vancouver Island community.
For more information, please call the Foundation at 250-519-1750, or visit victoriahf.ca.


Tickets may be sold and purchased only in BC. Chances are 1 in 47,500 (total tickets for sale) to win the 50/50 prize. BC Gaming Event License #140248. Know your limit, play within it. 19+ to play. Problem Gambling Help Line 1-888-795-6111.
The winning tickets will be drawn using Random Number Generator software and the winner will be contacted by phone by the Victoria Hospitals Foundation. Read the rules of play. Questions? Please call us at 250-519-1750 or email us at [email protected].