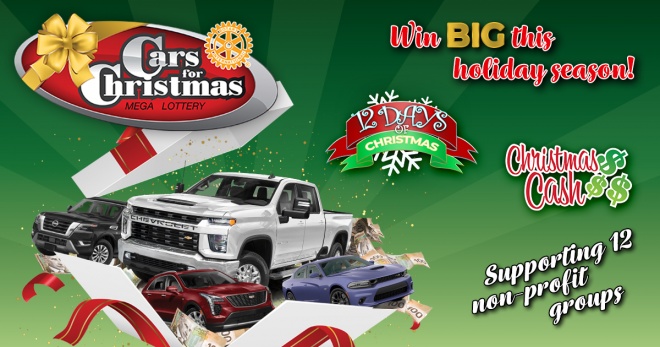 Grande Prairie, Alberta, December 6, 2021 — There's only 7 days left until the last Early Bird cut off for 2021 and your chance to take home $10,000 CASH just before Christmas! Purchase tickets before midnight on December 12 to make sure you're entered.
Tickets make great gifts and with the NEW gifting option, you can easily buy tickets as presents and send them directly to your recipient's email on the date of your choosing! Or download and mail in the printable form.
Tickets start at $50 each (sold out), 3 for $100, 10 for $200 and NEW this year, the best value yet – 25 for $250(sold out)!

Your ticket purchase also qualifies you for the Grand Prize Winter Warrior Package – a 2022 Chevrolet High Country 2500 HD Diesel Crew Cab, a 2022 Skidoo Tundra LT 600 AND a Marlon 12ft multi-use trailer – worth over $110,000 OR take the $100,000 CASH payout! Plus 4 more vehicles with cash payout options, a Can-Am Defender, detailing package, adventure tours, cash and more! A total of over $423,000 worth of prizes available to be won!
You can view the exciting Prize Line up HERE.
Make sure to add 12 Days of Christmas tickets to your purchase. 12 Days, 12 Gift Packages valued over $80,500. Each day the gift package is bigger than the last and includes gift cards for food, fuel, clothing, furniture and more! And don't forget your Christmas Cash 50/50 Tickets – winner takes home half the growing jackpot up to $175,000! Tickets start at $10 each(sold out), 3 for $25, 10 for $50 and the new best-value package – 25 for $75. Check out the current Jackpot HERE!
For 22 years the Cars for Christmas Mega Lottery has been raising money for many local non-profit groups in Grande Prairie. This year's funds will allow us to support youth organizations, seniors, and the most vulnerable through our 12 non-profit recipient groups. To learn more please visit HERE
Licence Main #575828 / Christmas Bonus Cash #575829 / 12 Days of Christmas #575830