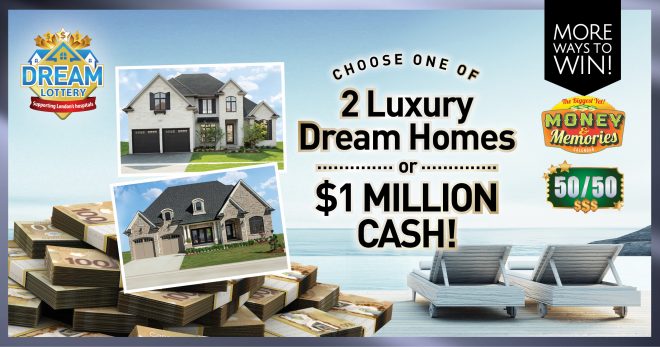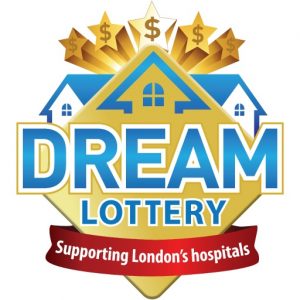 LONDON, ON, October 3, 2019 — Dreams just keep building and with a history of selling out early, we are anticipating it to happen again this Fall!
Dream Lottery has the most affordable tickets to win your choice between 1 of 2 luxury Dream Homes or $1 Million Cash … tickets start at just 2/$50!
At 2397 Meadowlands Way, you'll approach the Magnolia Refined Rustic Dream Home built by Mike Holmes Approved Home Builder, Wastell Homes! This 4,655 sq. ft. home boasts architectural character and French country farmhouse-inspired finishes; like the two-storey family room, vaulted ceiling in the eat-in kitchen, and wood beams in the dining room. Textured, sophisticated finishes are married with cutting-edge, modern conveniences throughout to create a contemporary farmhouse aesthetic.
At 54 Edwin Drive, you'll approach The Highland Green Estates Dream Home built by Reis Design + Build, a single-storey home with 4,130 sq. ft. that showcases a seamless transition between form and function. This home fuses old world and traditional exterior design elements with the modern amenities you'd expect to find inside today's luxury homes. The latest and greatest in smart home automation, designer finishes and custom millwork throughout.
If a Dream Home isn't what you desire, there's a world of possibilities with $1 Million Cash … make your own dreams become reality!
Visit the Dream Lottery website to see over 12,500 prizes to be won!
With MORE EARLY WINNERS than ever before, you'll want to Order Now and be in for all draws! Starting with the LOYALTY DRAW … say Hello Sunshine and escape the upcoming cold with a $10,000 Robert Q Travel Certificate OR simply take $8,000 CASH! Plus, an additional 99 winners will win various amounts of cash, cash and more cash! And let's not forget 5,375 Winners will receive a FREE TICKET … imagine winning on a free ticket! Make sure to order your tickets before the Loyalty Deadline on MIDNIGHT, OCTOBER 24!
For more chances of winning, the 50/50 is back, giving you the chance to get in on LONDON'S BIGGEST 50/50 JACKPOT! Last year's jackpot was Record Breaking at over $1 Million… Half to you – half to London's hospitals making it a WIN-WIN! Tickets starting at just 2/$15!
NEW this year, we have more ways to WIN with our MONEY & MEMORIES Calendar, now featuring 2 MONTHS of WINNING…that's 60 WINNERS – it's your chance to WIN every day in the month of February & March! Tickets starting at just 5/$20!
So much to WIN, including vacations, vehicles, cash, and more! For a full list of prizes, information on how to order tickets, and more details about the lottery visit the Dream Lottery website.
Remember, by ordering tickets for the Dream Lottery, you are helping change the lives of patients from across Southwestern Ontario who need specialized services at Children's Hospital at LHSC, St. Joseph's Health Care London and London Health Sciences Centre.
It's a WIN … WIN! To see how Dream Lottery helps these hospitals make a difference, read about our three featured patients online.

Order tickets online, at the Dream Homes, Shoppers Drug Mart locations in London and St. Thomas, or by phone 1-866-802-4117.
Dream Lottery Licence 11193 | 50/50 Licence 11195 | Calendar Licence 11196