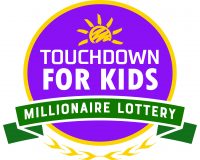 SASKATCHEWAN, October 4, 2019 — The Saskatchewan Roughrider Foundation and Jim Pattison Children's Hospital Foundation are proud to announce the Touchdown for Kids Millionaire Lottery.
The lottery, which will make one lucky person an instant millionaire, is expected to raise significant funds for both Jim Pattison Children's Hospital Foundation and the Saskatchewan Roughrider Foundation.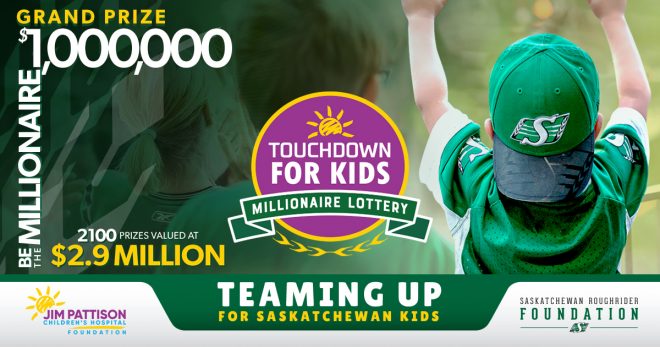 In addition to the million-dollar grand prize, there are thousands of other prizes available including 13 hot new vehicles, 6 luxury vacation packages, 41 unique and exciting Roughrider experiences, and so much more! An early bird prize of $500,000 will be awarded to one lucky person who purchases their tickets before November 25, 2019.
Tickets start at only $75 each – or increase your chances of winning with 2 for $125, 8 for $275, or the best value pack 18 for $425.
Buy your tickets now at touchdownforkidsmillionairelottery.com or by calling 1-844-574-KIDS (5437)

Don't forget to add Halftime 50/50 and Countdown Calendar tickets to your purchase. The Halftime 50/50 winner will take home half the jackpot of up to $1,487,500. Countdown Calendar tickets will get you into the draws for 133 cash prizes worth a total of $248,750 – calendar prizes will be announced every weekday in January 2020.
For complete lottery details visit touchdownforkidsmillionairelottery.com
Lottery Licence #LR19-0051