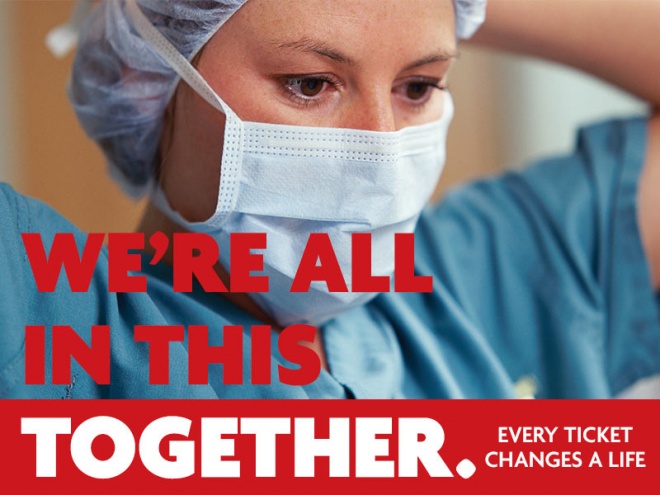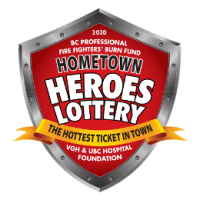 VANCOUVER, BC, Friday, April 24, 2020 – Tickets are now on sale for the 2020 Hometown Heroes Lottery and, now more than ever, our health care heroes deserve our support.
Every ticket changes a life. All lottery proceeds go directly to VGH & UBC Hospital Foundation, raising funds for the most urgent hospital needs and first responder resilience programs.
"In recent weeks, our front line health care staff have devoted themselves to preparing to care for COVID-19 patients," says Angela Chapman, President and CEO of VGH & UBC Hospital Foundation. "They are also ensuring that people can continue to access care to meet their urgent medical needs."
The doctors, nurses, and workers at VGH perform more than 30,000 surgeries and attends to more than 600,000 patient visits every year, for British Columbians all across our beautiful province.
"For years, lottery funds have helped ensure that medical teams in B.C. have the tools and equipment they need to save lives. On behalf of the Foundation, I'd like to thank everyone who supports the Hometown Heroes Lottery, allowing our health care heroes to be here for us."
Ticket purchases also go to the BC Professional Fire Fighters' Burn Fund and programs for burn survivors: "Your support of the Hometown Heroes Lottery has never been more important," says Sheila Kern, the Burn Fund's Executive Director. "Our fire fighter hometown heroes are working so hard to keep their communities safe, while healthcare heroes are in hospitals saving lives.
"Not every hero wears a cape. Some wear turnout gear and others wear stethoscopes."

Win 1 of 9 Grand Prizes – including $2.1 million cash!
You're going to love this year's Grand Prize homes…
Choose a $2.7 million White Rock package, or choose a home in Abbotsford, Kelowna, Penticton, or Courtenay, a sub-penthouse condo package in Vancouver, a 3-bedroom SookePoint home overlooking the Pacific Ocean, or a two-home Grand Prize package in White Rock and Cultus Lake. It's the best of both worlds – with a home near the beach and a home in the country at Creekside Mills!
Or you can take everyone's favourite prize and live your dreams with $2,100,000 tax-free cash. Financial freedom is only a winning ticket away…
But that's not all you can win…
Order early and get automatically entered into three Bonus draws – including the Welcome Bonus, a special $25,000 draw for everyone who orders in the lottery's first couple weeks. And you'll be automatically entered into a huge Early Bird draw worth over $150,000: choose two Tesla Model 3s, a massive travel package, or $100,000 cash. Plus, Hometown Heroes Lottery will draw 50 extra Early Bird winners of $500 cash each. That means there will be 51 Early Bird winners – and even more ways to join the winners list in 2020.
Over 3,200 prizes to win, worth over $3.5 million.
Don't forget to get your 50/50 PLUS tickets – to win half a jackpot that can grow to over $2.2 million – or your tickets for this year's extra game, the Daily Cash PLUS – with 105 days of winning, 209 winners, and $300,000 in cash prizes!
50/50 PLUS tickets start at just 2 for $15; Daily Cash PLUS tickets start at just 2 for $25. Tickets must be ordered in conjunction for your main Hometown Heroes Lottery tickets.

Get your tickets online at heroeslottery.com
by Phone at 604-648-4376
or 1-866-597-4376
In-person ticket sales at London Drugs will start the week of April 27th (subject to change)
Due to concerns over COVID-19, public safety guidelines and our commitment to social distancing, there are currently no in-person sales at Vancouver General Hospital or the Hometown Heroes Grand Prize showhomes.

View the homes, photo galleries, and virtual tours on heroeslottery.com