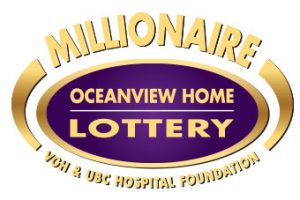 You deserve a Christmas Bonus!
A ticket to the VGH Millionaire Lottery makes a great stocking stuffer – and who wouldn't want to win big for Christmas?! Get in today to win a prize worth over $40,000.
Not only that, but you could become a multi-millionaire in the New Year!
The Christmas Bonus Deadline is Midnight, Friday!
When you buy early, you can win more – your tickets will be automatically entered into the $40,000 Christmas Bonus Draw, the $200,000 Early Bird Draw and the $3.2 million Grand Prize Draw, too.
The Christmas Bonus winner will choose a $40,000 Travel package from Carlson Wagonlit or $33,000 tax-free Cash. You win, you choose! Take the vacations and hit the beach, travel to Europe, or whisk your family away on an adventure you'll never forget… or beef up your bank account with a ton of cash, and spend it or save it or invest it however you want.
8 Grand Prize choices
Choose your favourite Millionaire package, with amazing Homes all across beautiful British Columbia – in South Surrey, sunny Tsawwassen, Downtown Vancouver, West Kelowna or luxury living in Downtown Kelowna at One Water Street, a two-condo package in wonderful White Rock and idyllic Vancouver Island living at SookePoint, or a gorgeous oceanview home in Sidney.
Or, become a multi-millionaire in an instant…
By choosing $2.7 million tax-free Cash!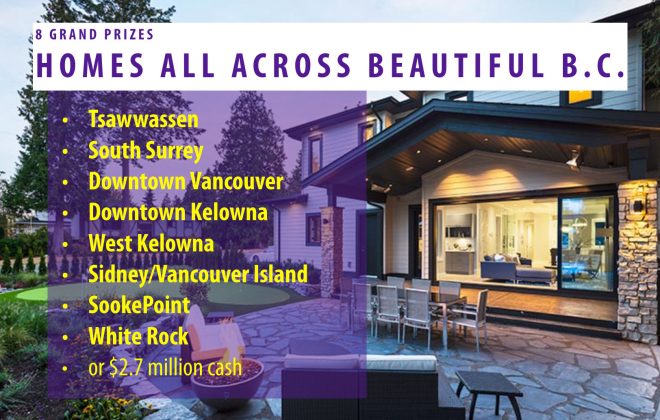 Don't forget! Get your 50/50 and Daily Cash tickets
For just a little bit more… there's millions to win!
This year's 50/50 jackpot could grow to $2.2 million – it could be the biggest 50/50 jackpot in BC!
And when you get your Daily Cash PLUS tickets, you're in to win an extra $300,000 cash. 209 winners, 105 days of winning!
50/50 PLUS tickets: 2 for $15 / 6 for $30 / 16 for $60
Daily Cash PLUS tickets: 2 for $25 / 6 for $50
50/50 PLUS and Daily Cash PLUS tickets must be ordered in conjunction with your Millionaire Lottery main ticket.
We All Need VGH… and VGH Needs You.
Your Millionaire Lottery ticket supports specialized adult health care and research in Vancouver, at Vancouver General Hospital, UBC Hospital and GF Strong Rehab Centre. Every year, VGH performs more than 30,000 surgeries and treats more than 600,000 patient visits. We treat 60% of British Columbia's adult trauma cases – and 50% of our surgical patients are from outside Vancouver. This is truly B.C.'s hospital, and the Millionaire Lottery is truly B.C.'s hospital lottery.
Transforming health care. Saving lives. Thanks a million.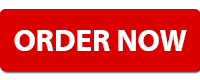 Get your tickets online at MillionaireLottery.com
by Phone at 604-602-5848
or 1-888-445-5825
or in-person at the Grand Prize Showhomes:
in South Surrey, Tsawwassen, and Sidney
(See Addresses and Hours online)
or at VGH + UBC Hospital Foundation:
899 W 12th Ave, Vancouver, BC
or at any London Drugs in British Columbia.