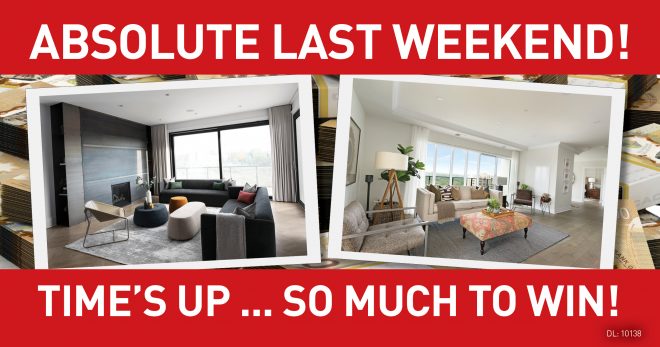 LONDON, ON, December 7, 2018 — Order Now before it's too late! Dream Lottery's FINAL DEADLINE is fast approaching!
That's right, Dream Lottery is coming to an end and that means tickets will no longer be available for your chance to WIN 1 of 2 Dream Homes or $1,000,000 CASH!
PLUS with tickets as low as 2/$50 … that's just $25 a ticket, it's your most affordable chance to walk away a BIG WINNER! Or you can gather your friends, family and co-workers to SAVE BIG with 35 for $500 … that's just $14.29 per ticket!
There's so much to WIN…VEHICLES, VACATIONS, JEWELLERY, CASH & MORE – including 1 of 2 Luxurious Dream Homes or $1,000,000 Cash!
Want MORE WAYS TO WIN? Don't forget London's BIGGEST 50/50 and the Riches & Relaxation Calendar featuring a winner every day in February!
SO MUCH TO WIN … SO LITTLE TIME!
HURRY – FINAL DEADLINE IS MIDNIGHT THURSDAY!

Don't miss your chance to WIN BIG and CHANGE A LIFE!

EVERY TICKET
CHANGES A LIFE
Every ticket is a life-changer when you support London Health Sciences Foundation, Children's Health Foundation, and St. Joseph's Health Care London by purchasing tickets for the Dream Lottery.

Visit the Dream Lottery's website to order tickets,
participating Shoppers Drug Mart locations, or by phone 1-866-802-4117.

Dream Lottery Licence 10138 | 50/50 Licence 10139 | Calendar Licence 10140