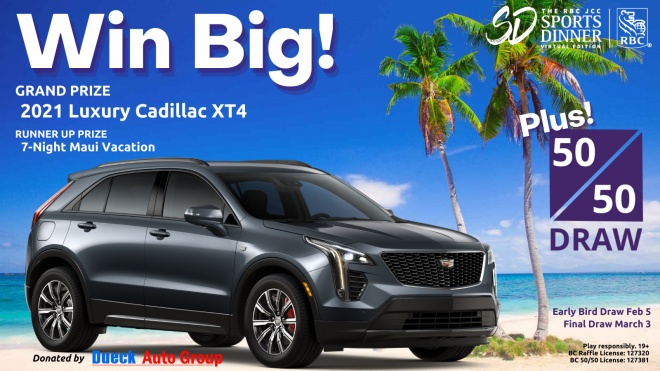 VANCOUVER, BC, January 25, 2021 — Start 2021 with a Slam Dunk when you WIN a new 2021 Luxury Cadillac XT4 or more than $120,000 cash. Vancouver's most amazing fundraising event, the RBC JCC Sports Dinner, is back with a new highly-anticipated Raffle and 50/50 Draw.
You could travel in style with the raffle Grand Prize, a new 2021 Luxury Cadillac XT4, courtesy of Dueck Auto Group. Valued at over $44,000, this dream Cadillac feels tailored just for you.
Relaxing on the beach more your style? The raffle runner-up winner will enjoy a 7-night stay in Maui. With a private 3-bedroom condo at Kaanapali Shores Resort, you may never want to come home! Redeemable through Dec 2022.
Hurry and buy your raffle tickets by midnight Feb 4 and you could win $1000 cash in the Early Bird draw.
But wait! There is even more – an all-new 50/50 Draw where the winner could go home with over $120,000.
Buy your tickets today!
Cadillac Raffle tickets start at $50 or 3 for $100
50/50 Draw tickets start at 3 for $10.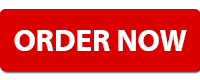 Final draw is March 3, with winners announced Live during the RBC JCC Sports Dinner gala broadcast.
The RBC JCC Sports Dinner, will feature an exclusive interview with superstar Earvin 'Magic' Johnson, and supports the charitable work of the JCC of Greater Vancouver. (Attendance not necessary to win.)
Celebrating professional and local athletes, funds raised at the RBC JCC Sports Dinner provide services for families in need. The Covid crisis has amplified this need. Your Cadillac Raffle or 50/50 Draw purchase helps the JCC deliver meals to seniors in isolation, gives scholarships to kids for sports leagues and summer camp and provides subsidised childcare for essential workers.
Help the JCC lift up those in need and purchase a ticket today!