CAMPBELL RIVER, BC, May 26, 2017 — Have you seen the forecast for this weekend? Time to bust out those shorts and dig out the sunscreen 'cause it's going to be a hot one!  
You know where else is hot? Mexico. And that's exactly where the second prize winner will be off to in the Campbell River Hospital Foundation Because You Care Lottery! You and a companion will stay seven nights in all-inclusive bliss at the Royal Decameron Los Cabos- just enough time to get the perfect tan, and enjoy a few poolside cervezas! The package includes round trip airfare for two from Vancouver, BC (travel insurance not included).
Or, how about escaping the norm and flying to St Lucia for a Caribbean adventure? Volcanic beaches, fishing villages, reef diving, and rainforest waterfalls to boot, this island nation is just one of many destinations you can choose from if you're the third prize winner! The prize is roundtrip airfare for two to any WestJet scheduled destination, whose list includes the Caribbean, London, England, and many major US and Canadian cities!  
As for the Grand Prize? Well, the sky is the limit for this winner, who will be able to travel virtually anywhere in the world with a $10,000 Travel Voucher from the Travel Place, PLUS $10,000 spending money! The question is: where would you go, who would you bring, and what epic memories would you make when you get there?
Don't miss your chance for a big adventure! Ticket sales close on Tuesday – that's only four days away!
Order your tickets today by calling 250-850-2418 or toll-free 1-855-550-2418, or order online. Tickets are only $40 each or 3 for $100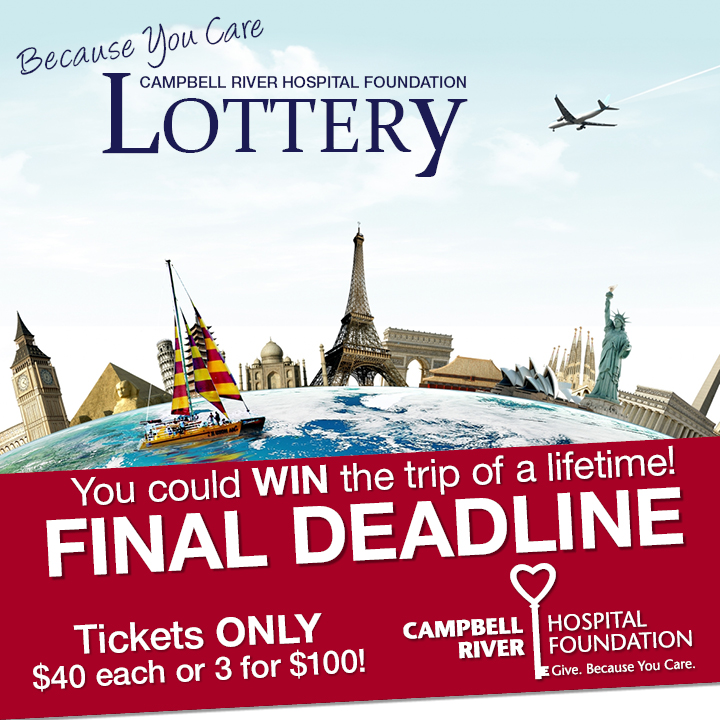 The cut-off is 5 PM on Monday, May 29th for sales at Shoppers Drug Mart (Tyee Plaza and Timberline Village), Quality Foods (Merecroft Village), and The Travel Place – Campbell River
The cut-off is 5 PM on Wednesday, May 30th for sales online, by phone, and at the Campbell River Hospital Foundation
Lottery proceeds will fund the purchase of a new ultrasound machine (which costs approximately $50,000) for the Campbell River Hospital's Maternity Department.
For complete details about this year's Campbell River Hospital Foundation Because You Care Lottery please visit the official lottery website.