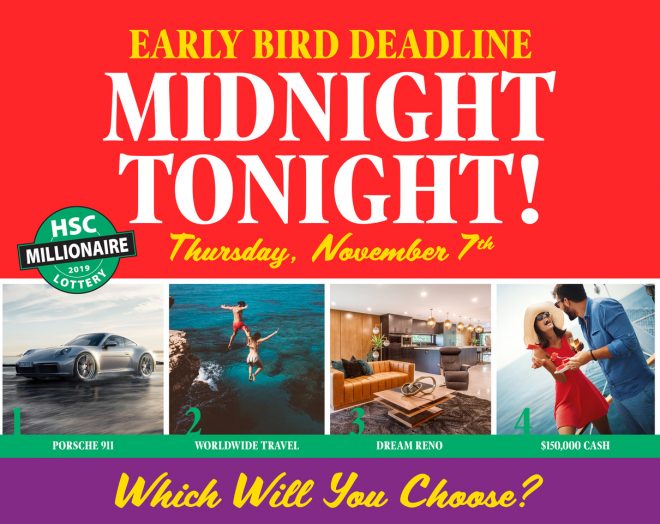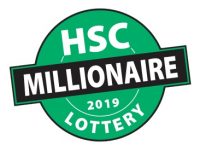 WINNIPEG, MB, November 7, 2019 — The Early Bird Deadline is Midnight, Tonight! Hurry, and order your HSC Millionaire Lottery tickets to get into this special draw…
Choose the Cash, the Car, the Reno, or Terrific Travel:
A Maric Home Renovation Credit valued at $200,000
OR a 2020 Porsche 911 Carrera (from Porsche Centre Winnipeg) valued at $170,000
OR a Worldwide Cruise for Two – 115 Days of Travel (valued at $145,000) plus $20,000 cash
OR choose $150,000 cash
Which will you choose? There's something for everyone!
Live Like a Millionaire
Choose your Grand Prize – and wake up every day in the home of your dreams!
This year's biggest winner will choose 1 of 6 Grand Prize packages:
A complete home makeover in Tuxedo (Winnipeg) by Maric Renovations, a character family home just steps from Assiniboine Park. Part of a $1.53 million Grand Prize!
OR a Maric Home in Charleswood (RidgeWood West), part of a $1.36 million Grand Prize – including furniture, two BMWs, and $200,000 cash
OR a Sterling Home in Winnipeg's Sage Creek, part of a $1.35 million Grand Prize – including furniture, travel, vehicles, and $500,000 cash
OR a two-home Grand Prize – with condos at The Rise in Winnipeg (Bridgwater) and Watermark Beach Resort in Osoyoos (Okanagan), part of a $1.35 million Grand Prize. Win both homes! Plus furniture, a Range Rover, and $250,000 cash
OR a 'B.C. Wine Country' home in the Okanagan, with two BMWs, $200,000 in travel, and $400,000 cash
OR take $1,200,000 cash and become Manitoba's next Millionaire in an instant!
COME VISIT!
Tuxedo Home OPEN Today: 1-6pm
426 Hosmer Boulevard, Winnipeg
by Maric Homes
With over 2,000 prizes to win – worth over $2 million – there's something for everyone in this year's HSC Millionaire Lottery.
And don't forget about this year's two extra games – the 50/50 and Daily Cash PLUS:
Get your 50/50 PLUS tickets
Jackpot now approaching $800,000

Daily Cash PLUS
64 Winners… $130,000 to Win
---
HSC Millionaire Lottery tickets are 1 for $100, 2 for $175, 4 for $300, and 8 for $500.
50/50 PLUS tickets are 2 for $20, 8 for $40, and 30 for $60.
Daily Cash PLUS tickets are 2 for $20, 8 for $40, and 30 for $60.
*50/50 and Daily Cash PLUS tickets must be ordered in conjunction with your main lottery tickets.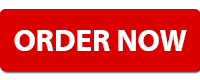 By Phone:
204-253-5688
Toll-Free:
1-855-999-5688
Order online or by phone, click on this website for ways to order and more info: HSCMillionaire.com

Or order in-person at HSC Foundation (PW112-700 William Avenue, Health Sciences Centre, Winnipeg), HSC Thorlakson Mall (820 Sherbrook Street, Winnipeg), London Drugs (St. Vital Centre), Red River Co-op food stores and Main St. pharmacy, and select Shoppers Drug Mart locations.
License No. LGCA 1822-RF-32173, LGCA 1822-RF-32174, LGCA 1822-RF-32175