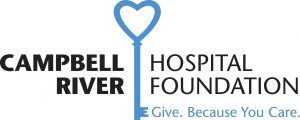 CAMPBELL RIVER, BC, March 22, 2019 — Back for 2019, the Campbell River Hospital Foundation supports about 20% of hospital purchases each year. You can lend your support to quality health care by entering their annual lottery; there are only 2,750 tickets, at $40 each or sets of 3 for only $100.
The $20,000 Grand Prize for the Lottery is an enticing $10,000 Cash and a $10,000 Travel Voucher. The 2nd prize is $1,000 Cash and One trip for two (2) to the Hyatt Ziva Resort, Los Cabos, Mexico and the 3rd prize is $1,500 Cash and One return trip for two (2) people to any scheduled WestJet destination. Tickets are now available and can be purchased online and with various retailers. Details are available on the Foundation's website. Winners will be drawn on May 24, 2019.
Visit the Because You Care Hospital Lottery for prize details.
Order online or by phone at 250-286-7164 (Toll-Free: 1-855-550-2418).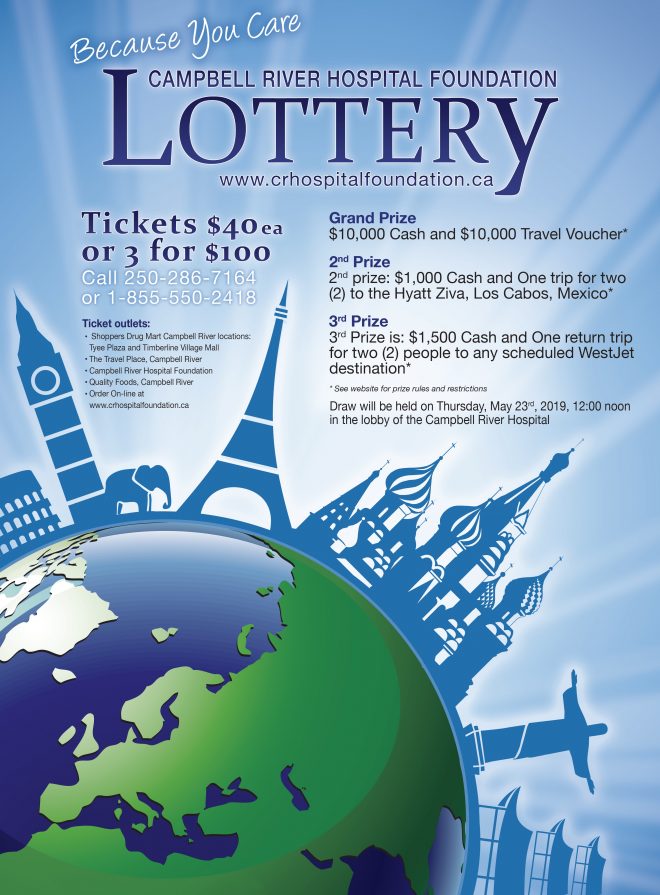 For complete details about this year's Campbell River Hospital Foundation Because You Care Lottery please visit the official lottery website.
Play. Because You Care.
The Campbell River Hospital Foundation funds vital, state-of-the-art medical equipment and continuing education for their healthcare professionals. Campbell River Hospital is the first point of referral for emergencies and illnesses including heart attacks, strokes, respiratory problems and all other diseases.
When you support the Because You Care Hospital Lottery, you help to ensure that the Campbell River Hospital is in the position to properly respond to the community's health care needs by providing the diagnostic treatment and support programs required. Funds from this year's lottery will be supporting women's health and will be used to purchase a Hologic Myosure Tissue Removal System. This system provides clear visualization into the uterine cavity, can resect unwanted uterine tissue with the use of a blade and fluid management system, provides better tissue contact for efficient tissue removal and to minimize the risk of perforation, which maintains uterine form, uterine function is preserved and collected specimens intact. This one system helps with many procedures and treats a wide range of intrauterine pathologies.
It will also go towards the purchase of a Hematology Slide Review System for our Laboratory. This system performs automated digital microscopy morphology analysis and has software that is designed for remote access, competency testing and education. It will increase productivity analyzing blood samples, digitally, with a high degree of reliability and accuracy. It will offer better support for rare or unusual cases for patients with urgent care issues.
Give. Because You Care.
Since 1994, more than $8 Million has been raised to support state-of-the-art medical equipment purchases, special projects that help enhance the service and treatment of patients and residents and continuing education for Campbell River Hospital's healthcare professionals.
We believe in our doctors, medical staff and professionals who make the hospital a caring place. Your support of the Campbell River Hospital Foundation helps to make a profound difference in quality health care for Campbell River and North Vancouver Island.