VANCOUVER, BC, February 9, 2018 — Don't wait… Order your tickets for the BC Children's Choices Lottery and get in to win the Appreciation Reward – worth over $33,000! Don't miss out on a 2018 VW Tiguan SUV or Luxury Travel – a $24,000 vacation/travel gift card + $6,000 cash; or take $27,000 cash.
Be one of the earliest buyers and get in for a chance to win in all the draws. Grab your ticket before the deadline Midnight Friday, February 9, 2018. The winner will choose one prize option, other options will not be awarded.
Order tickets online, or you can call toll-free (888) 887-8771 to order by phone.
Visit the lottery's website for all official details.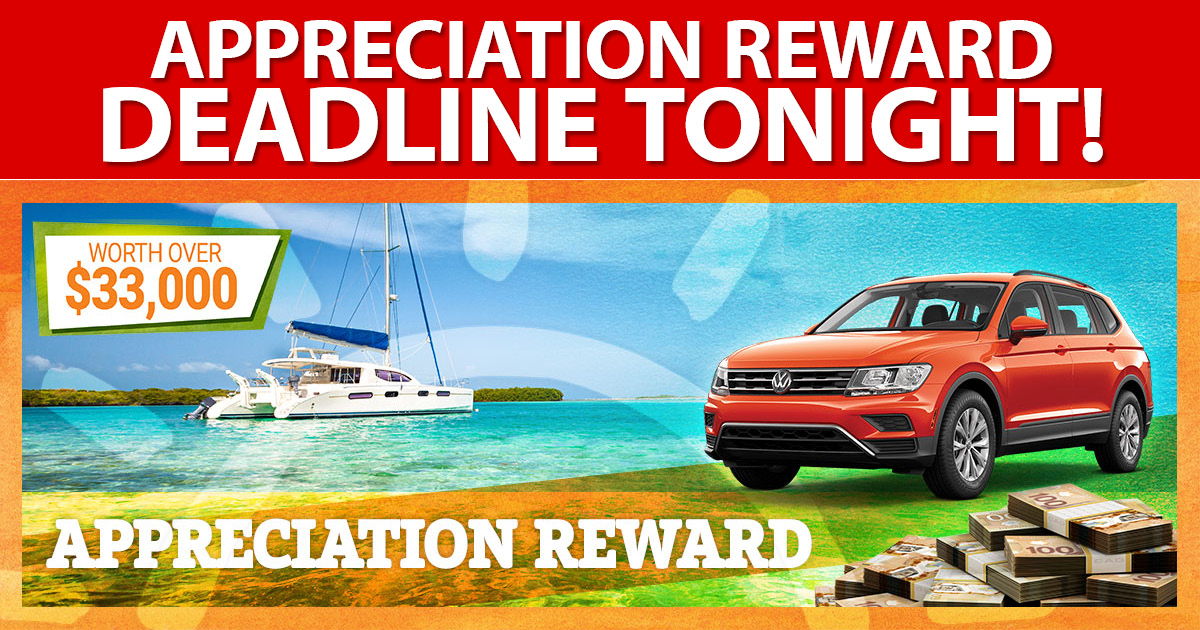 Choices Lottery offers 3,018 prizes worth over $3.6 million, with SEVEN incredible Grand Prize options to choose from including $2.2 million cash. If you've ever dreamed of waking up to an ocean view, having your own BC wine country getaway, driving luxury cars, or saying "YES" to every opportunity with the cash to fund your adventures… then this is the ticket for you! Plus, there are three early bonus deadlines, and an early bird prize of your choice between vacations for life, a condo, or $250,000 in cash! There are also cars, vacations, and thousands of other prizes up for grabs with a main lottery ticket. Add on the 50/50 Plus™ lottery, with a jackpot that can grow up to $2.2 million. Last year, the jackpot grew to $1,793,930 – and the winner took half! It's like another Grand Prize! There's also the Big Passport Plus™ lottery, with 101 winners of a total of $335,000 between May 5 to August 13, including one Ultimate Big Passport Plus winner. Where a prize offers options, the winner will choose one prize option, other options will not be awarded.