VANCOUVER, BC, January 12, 2018 — This is your last chance to enter to be the latest multi-Millionaire made by VGH & UBC Hospital Foundations' Millionaire Lottery! Only a few hours remain until the absolute final deadline at midnight tonight! Secure your chance at being crowned this year's Grand Prize winner and revel in the seven Grand Prize options that await you. Remember to order your tickets for the Daily Cash Plus™ and 50/50 Plus™ as well.
Order your tickets online, or call 604-602-5848 or toll-free 1-888-445-5825.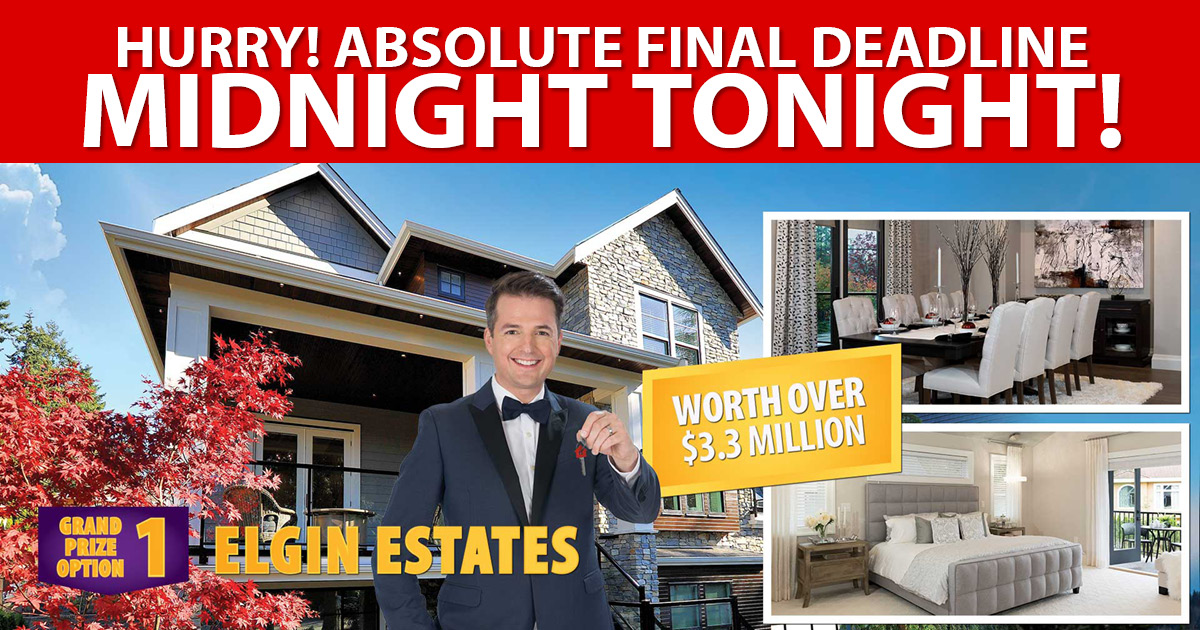 As Grand Prize winner would you choose Option #1 – Elgin Estates and the 6,146 square foot house fit for a king? How about Option #2 – the Ocean Park Package, with its ideal location to the ocean and additional winnings of $500,000 cash, a 2018 Tesla Model X, a 2018 Jaguar F-Type Convertible, and more. Option #3 is the Sorrento East Package with its apartment, 2018 BMW x4 xDrive 28i and 2018 BMW 230i Cabriolet xDrive, and $1.725 million cash. Option #4 is a home in both Vancouver AND Squamish plus two vehicles and cash. How about Option #5, the Paradise Estates Package, and its slice of heaven in Kelowna? Option #6 is the Sooke Point Package and the perfect getaway home. An astounding $2.7 million tax-free cash is Option #7. The winner will choose one prize option; other prize options will not be awarded.
Adventure awaits you with the Vacations or Cash that are also up for the winning, including a $10,000 vacation to Hawaii OR destination of your choice. Need some new wheels? The Cars or Cash up for winning include a 2018 Ridgeline V6, OR a 2018 BMW X1 xDrive 28i, OR a 2018 Audi A3 Komfort, OR Choose $43,000 Cash. Thousands of additional prizes are also available to win.
The Daily Cash Plus™ and 50/50 Plus™ offer even more chances of winning. The 50/50 jackpot is now over $1.3 million and can climb to an astounding $2,200,000! Winner takes half. The Daily Cash Plus promises 62 winners that will be drawn from February 6 to April 8, 2018, and will walk away with $3,000 cash. On April 9, 2018, one Ultimate Daily Cash winner will receive $50,000 cash.
Order your tickets online, or call 604-602-5848 or toll-free 1-888-445-5825.
The Millionaire Lottery offers seven Grand Prize options including $2.7 million cash, winners will be rich with cash and rewards… over $4.3 million in prizes to win in the main lottery alone! Best of all, all the money raised stays right here in BC!