VANCOUVER, BC, January 11, 2018 — Your very last chance at being crowned the winner of the 2017 Millionaire Lottery is coming to a close at midnight tomorrow, Friday, January 12! Ticket sales for the main lottery, the 50/50 Plus™ and the Daily Cash Plus™ all come to a close then. Don't wait, turn those daydreams into reality and you could ring in the new year as a multi-millionaire!
The Millionaire Lottery offers seven Grand Prize options including $2.7 million cash, winners will be rich with cash and rewards… over $4.3 million in prizes to win in the main lottery alone! Best of all, all the money raised stays right here in BC!
The Daily Cash Plus™ and 50/50 Plus™ offer even more chances of winning. The 50/50 jackpot is now over $1.3 million! Winner takes half. The Daily Cash Plus promises 62 winners that will be drawn from February 6 to April 8, 2018, and will walk away with $3,000 cash. On April 9, 2018, one Ultimate Daily Cash winner will receive $50,000 cash.
Order your tickets online, or call 604-602-5848 or toll-free 1-888-445-5825.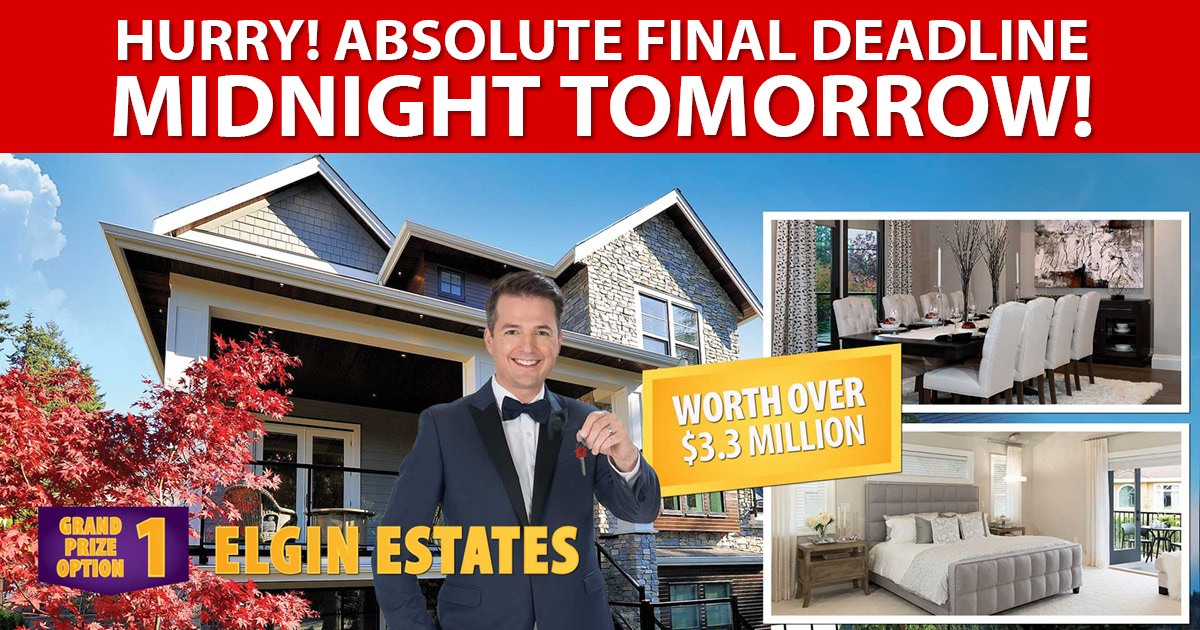 There are SEVEN fantastic Grand Prize options that await this year's winner. A house that absolutely embodies luxury in the beautiful Elgin Estates with $140,000 in home outfittings and $20,000 cash is Option #1. If the call of the ocean draws you, Option #2 is the one for you. A beautiful home at Newport at West Beach, $500,000 cash, over $100,000 in furnishings, and two luxury cars and an RV are what make up this package. Option #3 is for those who prefer luxurious living near Vancouver, with a condo at Pinnacle Living at Capstan Village, two luxury cars, and $1.725 million cash. Option #4 is for the adventurous at heart who still have a little city living in them. A home in Squamish AND Vancouver, two sporty cars, and $350,000 cash make up this prize. Let this little slice of paradise win you over with a home mere steps from Okanagan Lake, a Range Rover, and $100,000 cash as Option #5. Option #6 is an escape away from reality in the form of a furnished two bedroom suite in the Sookepoint Ocean Cottages Resort, two souped-up cars, and $1.75 million cash. An astounding $2.7 million tax-free cash to do with as you please is Option #7. The winner will choose one prize option; other prize options will not be awarded.
And there's more! Luxury vacations to destinations like Hawaii and cars that include the 2018 BMW X1 xDrive 28i, plus thousands of additional prizes are also available.
Order your tickets online, or call 604-602-5848 or toll-free 1-888-445-5825.